What Is Open or Closed During COVID-19
Reminder: Local travel only is recommended at this time

Visitor centers, backcountry camping sites, and campgrounds are currently closed in Redwood National and State Parks.
Be prepared. Bring soap/sanitizer and pack out all trash.

The NPS is focused on ensuring employees, their families, volunteers, and visitors are safe by following the most current guidance from the CDC, Office of Personnel Management, Office of Emergency Management, and other federal, state and local health authorities. Please see the NPS Public Health website for more details.

Redwood National and State Parks, in response to recommendations issued by the State of California, has implemented modifications to operations to support federal, state, and local efforts to slow the spread of the novel coronavirus (COVID-19). For details, please see our May 21st news release.
What is Currently Open and Closed in Redwood National and State Parks:
Find out what the
Current Conditions
are in the parks. (Weather, air quality, facilities, road and trail conditions).
All visitor centers are currently closed.
While most restrooms have been reopened - they may be temporarily closed for cleaning.
Please bring everything you need and pack out everything you bring in.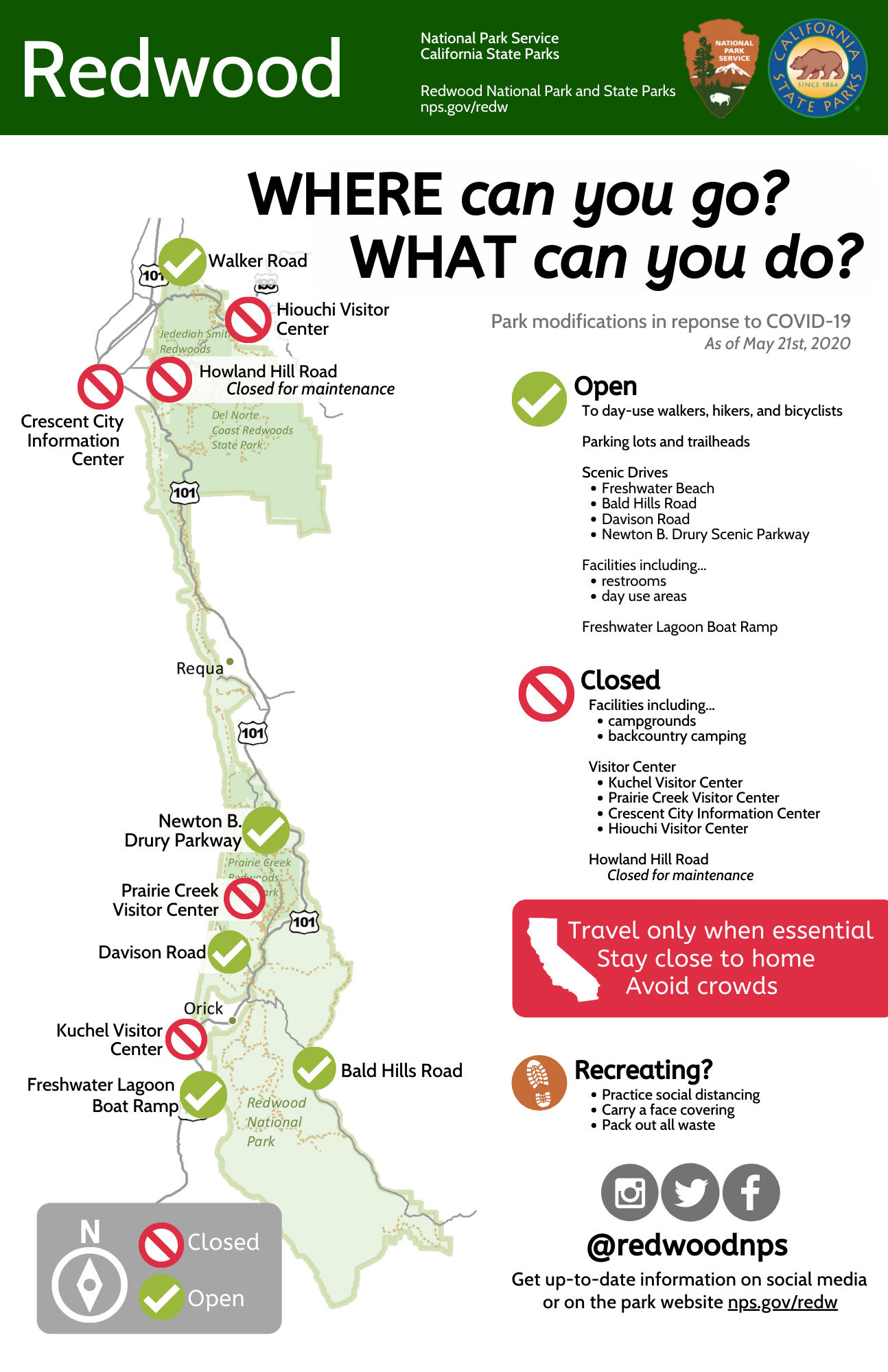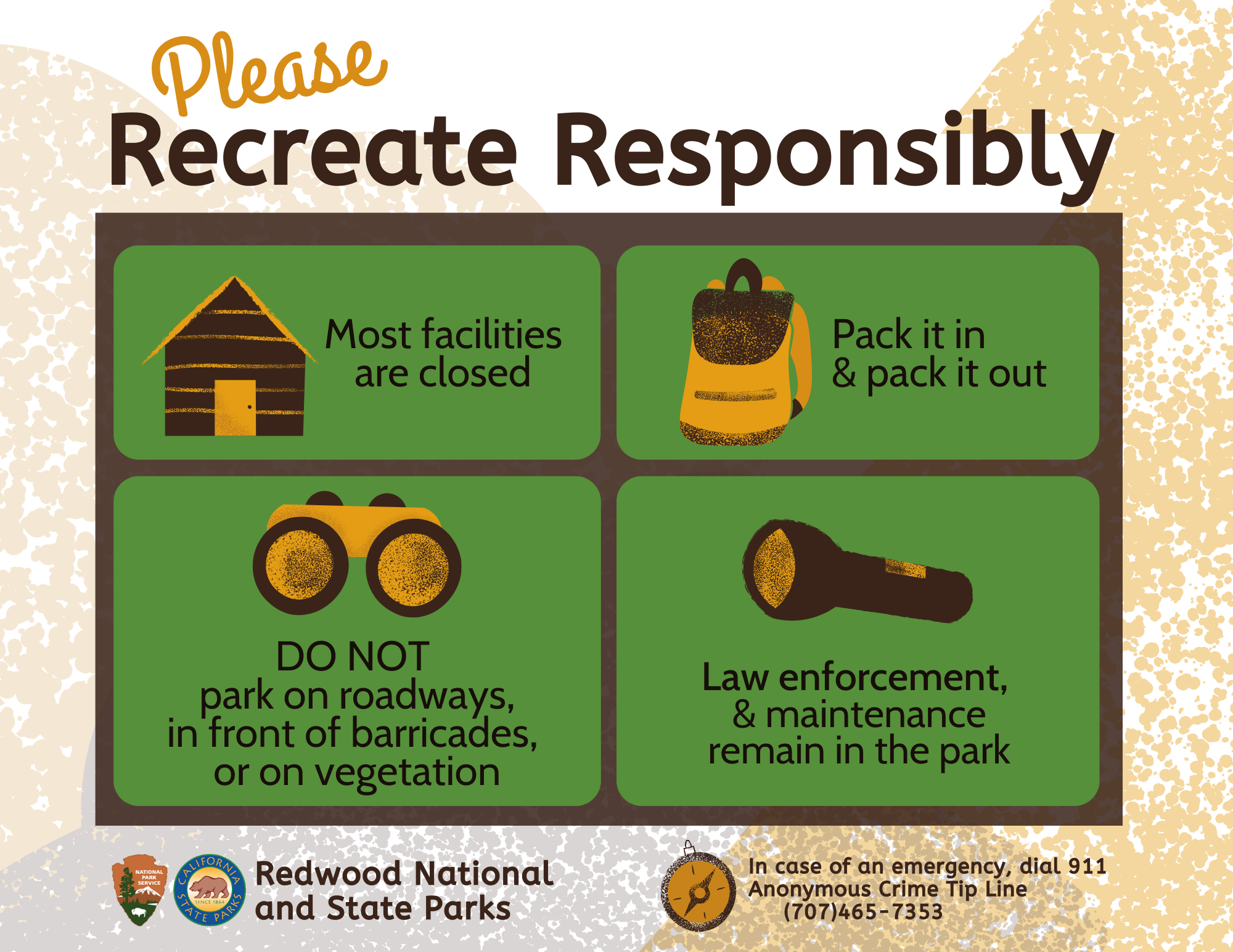 Please Recreate Responsibly In The Redwoods



Spread out




While you're enjoying the park, we encourage you to maintain at least 6 feet of distance from others to help stop the spread of COVID-19.





Pack it in, pack it out.




Use trash bins or take your trash home.





Prepare ahead.




Most restrooms are closed.





Avoid hazardous parking




If your planned trail or area is crowded, please try a less crowded area.

Please do not block or move barricades, or park on any vegetation.
Leave No Trace ethics
are always important to follow. During this pandemic, national parks across the USA are stressing the importance of these ethics - no matter the place a person might be recreating at.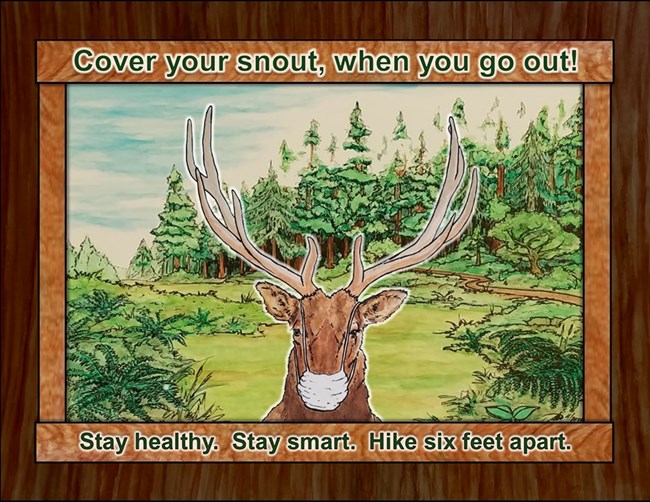 Redwood National and State Parks (RNSP) is an unusual partnership of three California state parks and one national park. The way that RNSP operates, or opens / closes areas and facilities during the COVID-19 pandemic follow local, state and federal guidance. This unique partnership means that even though the public is experiencing RNSP as one destination, they way the public can recreate in RNSP during COVID-19 means different things in different geographical parts of RNSP.

We know this can be confusing if you are in Redwood National and State Parks - or thinking about how you can visit us. This webpage will convey the best and current information about what is open. However, visitors are responsible for following the state, or federal laws that govern the particular location (within the boundaries of RNSP) that they are visiting.
Last updated: June 2, 2020