2018: 50th Anniversary of Redwood National Park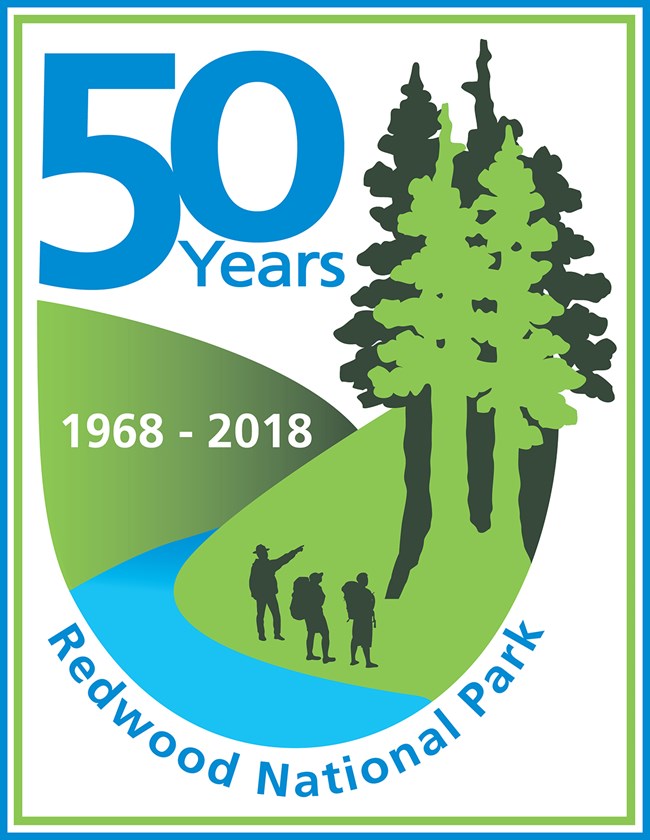 For five decades, Redwood National Park has been a part of the local community, regional economy and global environmental movement. We have a complicated and passionate human story - and not always an easy one to tell. There are so many views on what the creation of the park meant - and what the park means today.
Redwood National Park will be offering a variety of in-park special events to celebrate our 50th anniversary. You can find them on our
park calendar.
We are working with local communities and partners like Redwood Parks Conservancy to bring a wide variety of exhibits, cultural opportunities and redwood experiences to the local areas too. Be sure to check their
calendar of events
happening outside the park.
This year is also the 100th anniversary of Save The Redwoods League. The League is a very important conservation partner, and since 1918 they have been protecting and preserving redwood forests. This year, all across Northern California, the League is offering a variety of free passes and "
Second Saturday
" events.
We invite you all to join in for this special year. There is so much to celebrate!
50th Anniversary Partners
Events and activities for our 50th Anniversary would not be possible without the amazing support and energy of local people and organisations coming together to leverage our different skills, interests, facilities, time and talent. Thankyou partners!
Redwood Parks Conservancy
(RPC)
RPC will take the lead with much of the planning and co-ordination of off-site events for this special year.
Save The Redwoods League
(STRL)
STRL have always been a partner with the park, and this year happens to be their 100th anniversary! STRL are providing a wide range of redwood events across Northern California, as well as helping the park and RPC host local events.
Humboldt State University
(HSU)
HSU Library Special Collections have developed an internship program in partnership with the Redwood National Park to make collections related to the redwoods more available to the public. Eighteen Library Interns have worked together to create a database of digitized material and digital exhibits to highlight the collections, research and history of Redwood National Park. The digital collection "Researching the Redwoods" is now available to the public.
Humboldt County
A summer series of museum exhibits specifically about Redwood National Park are planned by Eureka's
Clarke Museum
and
Morris Graves Museum
. In April there will also be redwood related booths and events at
Sequoia Park Zoo.
Del Norte County
There will be anniversary events being held by Del Norte County partners - stay tuned!
Sunday April 22: Earth Day
Redwood Parks Conservancy and park staff will be attending Earth Day events at
Sequoia Park Zo
o, Eureka.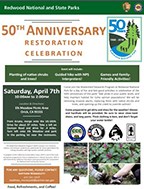 Saturday April 7th
.
Restoration Celebration
Come join the
Watershed Stewards Program
at Redwood National Park for a day of fun and feel-good activities. Help maintain habitat for Coho salmon!
Saturday, April 28: Guest Speaker
Annual meeting of the Historical Sites Society of Arcata Phillips House Museum, Arcata. 11:30 a.m. Guest speaker: Karole Ely on the subject of "My adventures and personal involvement in the 1969 dedication of the Lady Bird Johnson Grove."
Saturday May 12th. Book signing
Acclaimed nature writer Jordan Fisher Smith will be signing and discussing his book "Engineering Eden: The True Story of a Violent Death, a Trial, and the Fight Over Controlling Nature." This free event will be held at the Thomas H. Kuchel Visitor Center on Saturday, May 12, from 10 a.m. to 2 p.m. The visitor center is located on Hwy. 101 just one mile south of Orick, Calif. All proceeds of book sales support
Redwood Parks Conservancy
.
Sunday May 13: Ride the Redwoods
The Redwood Parks Conservancy invites mountain bikers to take an exhilarating trek through redwood forests and the Mill Creek Watershed in Del Norte Redwoods State Park with Del Norte Trails Alliance founder Joe Gillespie. Free, but registration required. More information.
Saturday May 19:
Rock the Redwoods!
Live music at Arcata Playhouse. 7pm
Wednesday, July 4: Crescent City Fourth of July Celebration
Redwood National and State Parks' staff participate in the famous
Crescent City Fourth of July Parade
—From Sea to Shining Tree!
June 9 - August 5: "Towering Giants"
Morris Graves Museum of Art
, Eureka. A unique juried exhibition highlighting the essence of Redwood National Park.
June 25 - 30: National Parks at Night Photography Workshop

July 7 - : "The Redwoods Provide(d)"
Clarke Museum
, Eureka, CA. A summer exhibit about how the redwoods of Humboldt County have long provided for the needs of the people who live here. Understand how in the 1960s those forests providing for the people began to change rapidly with discussions about the creation a new national park.
Saturday, July 14: Tolowa Dance Demonstration
Annual Tolowa traditional dance demonstration at the day-use area of Jedediah Smith Redwoods State Park. 1 p.m.
September 3 – 8: Redwood Coast Open Plein Air Contest

CANCELLED
September 15:
Run in the Redwoods
Prairie Creek Redwoods State Park
10:00 a.m. Annual 5-K run supporting Redwood Parks Conservancy.
Friday and Saturday, October 5 & 6: Sea Cruise Car Show
This annual car show in Crescent City will feature special prizes for 1968 and 1918 vintage automobiles.
October 5 :
Trinidad Musuem Photography Exhibit
Trinidad Museum, Trinidad. Photography room exhibit of events that took place before and during the Lady Bird Johnson Grove dedication ceremony for Redwood National Park.
Sunday, October 7:
North Coast Centennial Celebration & BBQ
12 p.m. Celebration Barbeque for Anniversaries of Save the Redwoods League and Redwood National Park. This will be held in Orick, CA. Public barbeque and celebration.
Sunday, October 13 Save the Redwoods League Centennial Celebration Gala
"Stand for the Redwoods, Stand for the Future". Union Square, San Francisco. Save the Redwoods League's Gala Centennial Event in San Francisco.
Tickets on sale on SRL website
.
October 14 - 19: Redwood Forest Festival
12 p.m. Save the Redwoods League.
October 19-20. Night Photography Exhibit and Workshop
Celebrate
Dark Sky Projects and national parks at night
. Exhibits, gallery talks, and a mini-workshop will be held in the park.
November 8th, 5-7pm. Morris Graves Museum of Art Mixer
Morris Graves Museum, Eureka. The Humboldt Arts Council and Redwood Parks Conservancy will host a closing mixer celebrating the anniversary of Redwood National Park in October. Refreshments will be served.
November 30 and December 1:
Candlelight Walk
Annual two-evening event at Prairie Creek Redwoods State Park. Food, story-telling, luminary path and silent auction.
December (Exact date TBA):Eureka Truckers Lights Parade
Redwood National and State Parks float with 50th anniversary theme.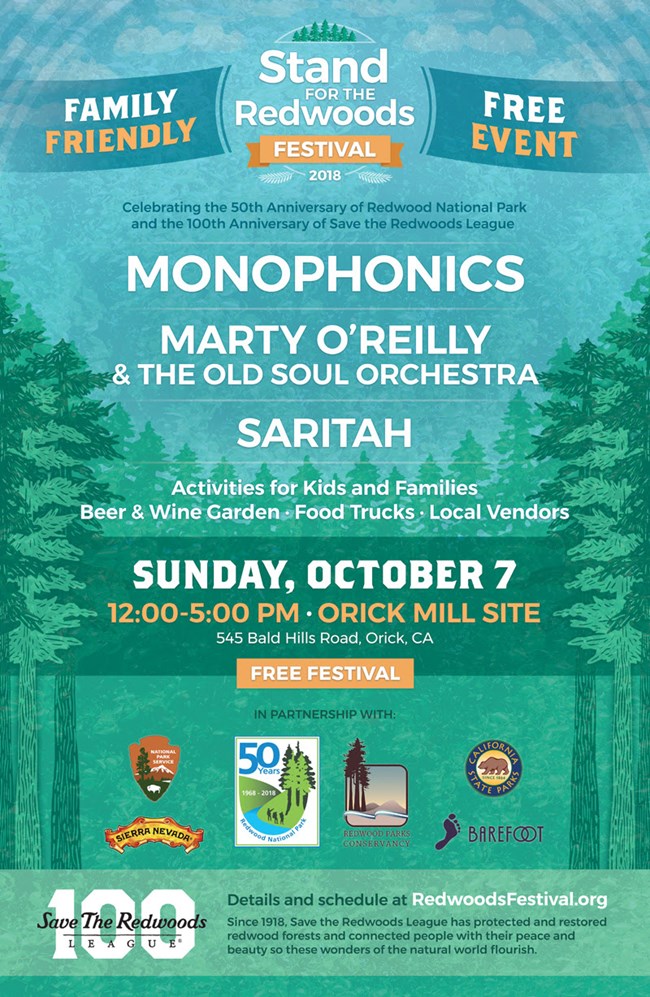 Orick: Sunday, October 7.
This is the big 50th anniversary party for Redwood National Park! The festival is being held right next to the national park in the shadow of old-growth redwoods. It is being hosted by the
Save The Redwoods League
- it is their 100th anniversary!
Last updated: October 19, 2018