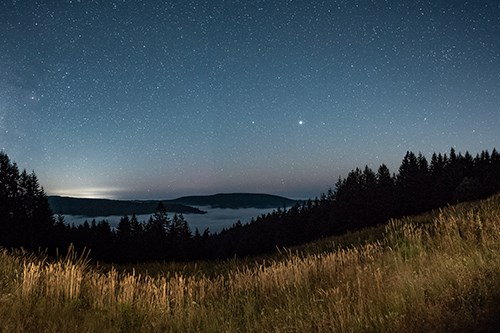 In collaboration with
National Parks at Night (NPAN)
and
Biscayne National Park
, Redwood National and State Parks is proud to present
From the Redwood Forest to the Gulf Stream Waters
:
a collection of night sky photographs
celebrating the 50th anniversaries of Redwood National Park and Biscayne National Park.
Photography Exhibit and Gallery (Free)
October 19, 2018 – January 13, 2019
Hiouchi Visitor Center
Opening Reception: October 19, 2018, 5:30 pm – 7 pm
Gallery Talk (Free)
October 20, 2018, 1 pm – 2 pm
Hiouchi Visitor Center
Join NPAN photographers and exhibit curators for a free discussion about the
From the Redwood Forest…
project and photographs in the exhibit.
Night Photography Workshop ($75)
October 20, 2018, 3 pm – 9 pm
NOTE:
Workshop time has changed (previously 5 pm - 11 pm)
Hiouchi Visitor Center,
and travel to Jediedah Smith Day Use Area
Sponsored by Redwood National and State Parks and
Bay Photo
, join NPAN photographers Lance Keimig and Chris Nicholson (see bios, below) for a hands-on, introductory mini-workshop to learn the fundamental techniques and concepts of night photography and light painting. Night photography is a fun and challenging way to enjoy our national parks, and today's digital technology makes night photography more accessible than ever. Even those with limited photography experience (though some personal gear/equipment is required—see below) can learn the fundamentals in this fun mini-workshop.
The workshop will begin with a 1.5 – 2-hour tech talk at the Hiouchi Visitor Center, followed by set up of participant's cameras. Participants will then travel to Jedediah Smith Day Use Area (carpooling may be limited so please plan on traveling in your personal vehicle) where Lance and Chris will demonstrate night photography and light painting techniques and assist participants with their own shots. At workshop conclusion, suggestions for additional night sky photography locations will be offered.
Workshop participation is limited. Please call 707-465-7335 to register. A $75 workshop fee (cash or check, only) will be paid at the workshop location on the day of the event.
Participants should bring: a DSLR or mirrorless camera that is capable of manual exposure and manual focus (point-and-shoot cameras and phones will not suffice); a wide angle lens and lens hood or lens shade, and, a tripod (required). Helpful items to bring include: a remote release or intervalometer; extra batteries (make sure all batteries are fully charged!); your camera's manual; and, flashlights— bright ones, dim ones, white or colored light, whatever you have on hand. If they have the manual for their camera, they should bring that too.
Dress warmly, and bring water and/or warm beverage and a snack as the workshop goes late into the evening/night.
Lance Keimig
is a Hinesburg, VT based photographer who is best known for night photography made at the intersection of the natural and built environments. He is the author of two books, including
Night Photography: Finding Your Way in the Dark
which has been translated into 7 languages. Keimig is a partner in National Parks at Night, an organization dedicated to promoting and preserving our national parks through photographic education.
He has taught night photography for the past twenty years at the New England School of Photography, The Photographic Resource Center at Boston University, The Houston Center for Photography, Maine Media Workshops, the Rocky Mountain School of Photography and leads independent workshops across the country, and international photo tours around the world.
www.TheNightSkye.com
www.NationalParksAtNight.com
Chris Nicholson
is the author of
Photographing National Parks
, a partner and instructor with National Parks at Night, and a Manfrotto Photography Ambassador. Having worked independently since 2004, his work has appeared in several books and over 30 magazines. He has worked as a book editor for
National Parks Traveler
and an editorial consultant for Chimani national-park travel guide apps. Chris has also taught for CreativeLive, is a regular presenter at the B&H Event Space, and he speaks at photography conferences and events around the U.S.
www.PhotographingNationalParks.com
www.NationalParksAtNight.com