Redwood Family Coastal Camp (RFCC)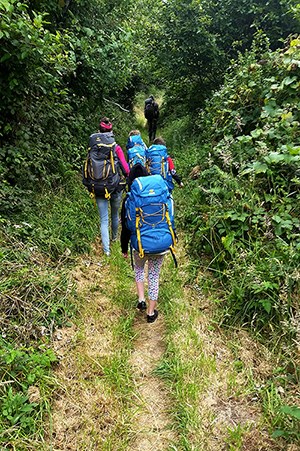 Come and Get It!
In summer 2016, Del Norte County fourth graders and their families participated in the Redwood Family Coastal Camp (RFCC): a free, ranger-guided, two-day/one-night backpacking trip along the California Coastal Trail in Redwood National and State Parks. As part of the RFCC, fourth grade participants (with the supervision of an adult parent or guardian) and their families are eligible to enjoy free access to camping and backpacking gear for as long as they are students in Del Norte County. This webpage provides 2016 RFCC participants with instructions for borrowing RFCC gear.
How to Request and Check Out RFCC Gear
First, refer to the Borrower Equipment Checkout Procedure form. This document provides a complete description (with pictures!) of equipment and gear available to borrow, how to request equipment, check out equipment, and how and when to return it.
In brief, requests to borrow equipment must be made at least 48 hours in advance of checkout, and can only be made in person at the Hiouchi Information Center or by calling 707-458-3294. Make sure to review the Borrower Equipment Checkout Procedure form before you make your request. Rangers will ask specific information about your intended use of the equipment, including:
A list of specific items needed (and quantities of each). Please specify sizes for backpacks, sleeping pads, and sleeping bags (e.g., adult or child, regular or long lengths, etc.--the Borrower Equipment Checkout Procedure form contains a gear "menu" with pictures and descriptions to help you make decisions).
Date and time you will pick up and return borrowed equipment. The maximum checkout period is seven (7) days.
Location of planned camping or backpacking trip.
Borrower's name and contact phone number. You will receive a confirmation call when your request has been processed.
Please note that equipment requests and checkout must be made by an adult at least 18 years of age who participated in the 2016 RFCC. This person will be responsible for proper use and care of the equipment. This "Adult Borrower" will also be responsible for completing and signing the RFCC Gear Checkout Form. This form will be available at the Hiouchi Information Center when checking out gear.
All the gear available for check out is the same that was used during the 2016 Redwood Family Coastal Camp. If you have any questions about how to use the gear, or need a demonstration, please tell the ranger during your initial equipment request so we can plan accordingly. Written usage instructions will be provided for tents and stoves.
All requests will be fulfilled on a first come, first served basis. The earlier you make your request, the more likely we will be able to accommodate your dates.
You will also be expected to return equipment clean, dry, and in proper working condition. Please see the Cleaning Checklist for RFCC Camp Gear for detailed instructions.
Inspired by President Obama's "Every Kid in a Park" initiative, RFCC is one way Redwood is celebrating the National Park Service Centennial in 2016. Funding for RFCC is made possible by an "Explore the Coast" grant from the California State Coastal Conservancy, and partnership contributions from the Patricia D. and William B. Smullin Foundation, Arthur R. Dubs Foundation, Wild Rivers Community Foundation, and Redwood Parks Conservancy.

Last updated: October 4, 2016