Centennial Celebration in the Redwoods
Our centennial event was a success because of our amazing local community.

Duration:

1 minute, 12 seconds
Discover for yourselves some of the festivities, events and fun that was had as we celebrated 100 years of the National Park Service.

Duration:

6 minutes, 8 seconds
COME TO A BIG PARTY! SUNDAY JUNE 26th.
You are invited to a free, fun and festive afternoon party in Orick, CA surrounded by redwood trees.
This is one of our celebrations of the 100th birthday of the National Park Service.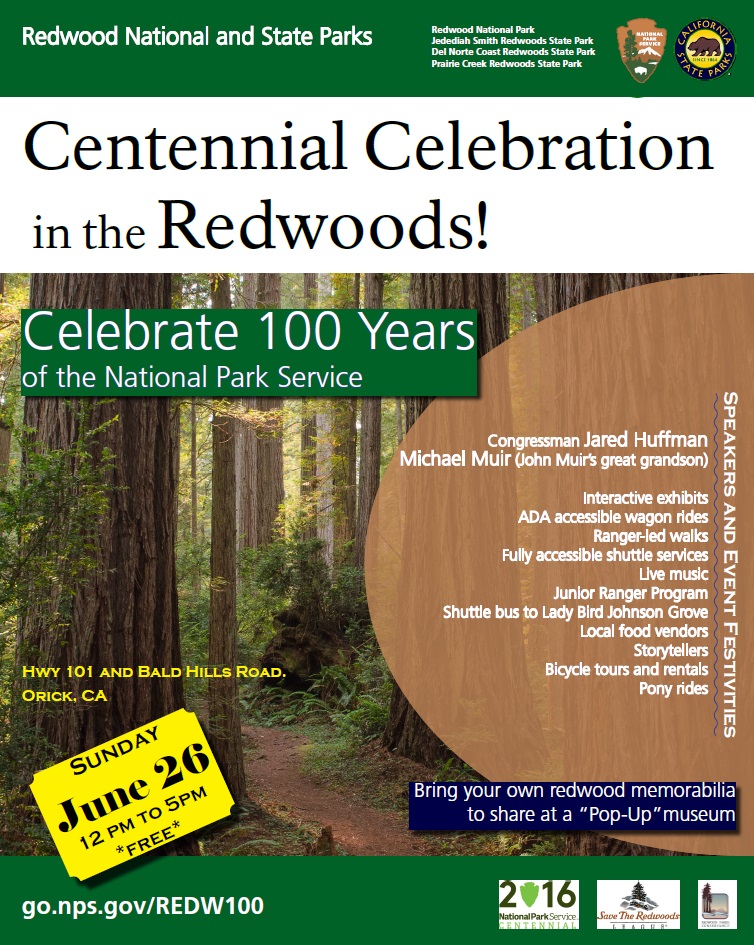 EVENTS and FESTIVITIES
We are planning unique opportunities for you to engage in the park, and with other visitors.
Fully accessible wagon rides thanks to Access Adventure.
Local musicians and food vendors will help make your mind and stomach very happy.
Pony rides.
Create your own "POP UP" museum.
Key-note address from Micheal Muir (John Muir's great-grandson).
Family activities include story tellers, bike rides, live music, ranger-led walks and junior ranger programs.
#REDW100NPS
#findyourpark
WHERE IS THE EVENT?
The event will be held on the site of a former lumber mill, 1-mile north of Orick. It is on the intersection of Highway 101 and Bald Hills Road. The site is on the road to get to "Lady Bird Johnson Grove".
Drive-time is about 45-minutes from Crescent City in the north, and 45-minutes from Eureka in the south.
TRANSPORT and SHUTTLE SERVICES
Yurok Transit Services have offered free shuttle services from the northern towns of Crescent City and Klamath. If you wish to use this then please contact them directly to reserve your ride. Ph 707 482-0731.
ADA accessible van services will be an option for those coming from Eureka.
Lady Bird Johnson Grove will have a shuttle bus to and from the event site.
1:30 pm to 4 pm. $5 a head.
Our supporters
We couldn't do this without Redwood Parks Conservancy, Save the Redwoods League and Yurok Tribe.
Other partners are Crystal Springs, Orick Chamber of Commerce, Humboldt Lodging Alliance, Humboldt Convention and Visitors Bureau, Michael Muir and Access Adventure, RRK Parking Services, The Jonsteen Company, Champion Awards and Engraving, Green Diamond Resource Company, Trinity Alps Chamber Music Festival, Moonstone Heights, Redwood Buckarettes, Simmer Down Carribbean Cafe, Edeebee's Snack Shack, Rebecca'ihaw-ihaw Filipino BBQ, Vita Cucina, Ramone's Bakery and Cafe, Cherry Blossom Bakery, First Rise Baking Co., The Good Homosapiens, Kayak Zak's, North Coast Co-Op, Port O' Pints, Humboldt Cider Company, Safeway, Redwood Rides, and Redwood Adventures.
Last updated: July 21, 2016