Mailekini Heiau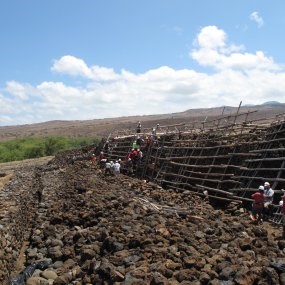 Just below Pu'ukohola Heiau stands Mailekini Heiau. Although this structure's history is somewhat vague, during the reign of Kamehameha the Great, this temple was converted into a fort. Following the final unification of the Islands in 1810, Kamehameha's rule over the Hawaiian Islands seemed secure. However, he was undoubtedly aware that threats to his power could arise at any moment. In addition, the increasing presence of Europeans might have made him uneasy and mindful of the vigilance he would need to keep both his subjects and arriving foreigners in line.
Influenced by his exposure to European military strategy and Western weapons of destruction, Kamehameha decided to build forts with mounted guns to protect his major ports. Reinforced by a navy, these safeguards would hopefully ensure the longevity of his reign. When the French captain de Freycinet visited this site in 1819 he noted that,
During the reign of Tamehameha, cannons, guns, and other firearms from Europe were introduced to the Sandwich Islands, and there was a fairly large number of them when we visited these parts...There were also several cannons, of which we could not learn the number, located on the beach of Kohaihai [Kawaihae].
About 1812, Kamehameha sent cannons, obtained from traders, to Kawaihae to be mounted under the charge of John Young, his foreign advisor. Possibly as many as 21 ship guns on the foundations of Mailekini Heiau, where they guarded the king's residence nearby as we as the harbor. As Captain de Freycinet neared the anchorage of Kawaihae in August, 1819, he "saluted the Sandwich Islands flag with eleven guns, which were answered in equal number by a battery mounted on shore near the royal residence."
In many ways Mailekini Heiau stands as a symbol of the drastic change that took place in Hawaii during the time of Kamehameha. Barely 30 years before Mailekini was transformed into a fort, with cannons, a storehouse for muskets and swords, the Hawaiian people were literally living in a stone age society. The arrival of Europeans in the late 1700's and early 1800's led to a quick transformation in the use of new technologies by the Hawaiians. Mailekini Heiau testifies to the fact that, as an adept and intelligent leader, Kamehameha was able to utilize new modern technologies to secure his control over the islands.
Last updated: February 28, 2015