Turkey Run Education Center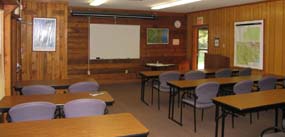 The Turkey Run Education Center (TREC) is a reservation-required classroom-style facility available for organized groups with recreation activities in the park for $75.00 per day. The facility is available year-round from 8:00 AM to 5:00 PM. TREC is equipped with tables and chairs to accommodate up to thirty people. Upon The classroom a ceiling-mounted projector, 52 inch LCD screen, and dry-erase white boards (and markers). A drink machine and public restroom are located behind the TREC building.
Cancellation Policy

No refunds will be given due to cancellations. Reservations may be rescheduled for a future date.
Check-in/Check-out

Check-in is no earlier than 8:00 am. Check-out must be by 5:00 pm or as listed on your permit.
Parking

Parking is available in the Turkey Run Ridge parking lot, however, space is limited as this is a public parking area. Carpools are encouraged.
Leader Responsibility

The group leader is responsible for ensuring the group's compliance to the rules and regulations of the National Park Service.
Emergencies and Safety If an emergency occurs while you are using TREC, contact the nearest park ranger on duty or call the National Park Service Emergency Dispatch Center at 1-866-677-6677 or 9-1-1 using the payphone located in the Turkey Run Ridge Parking lot. Both of these numbers are posted on the payphone. A first aid kit is located in the TREC classroom. Park Rangers are available at the visitor center every day from 9:00 AM to 5:00 PM, except Thanksgiving, Christmas Day and New Years Day.