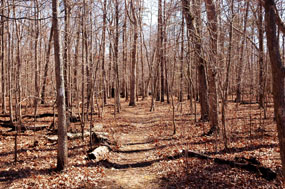 Oak Ridge Trail (1.6 miles; 2.6 km)
Oak Ridge Trail is a short, level trail that starts at Oak Ridge Campground and ends on Old Black Top Road. The trail is marked with yellow blazes and has opportunities to see beaver activity.
At the beginning of the hike you will notice burn marks on most the trees in the forest. This is the result of a 318-acre wildland fire that began near the B-loop of Oak Ridge Campground. The fire began on March 27, 2006 and was finally extinguished on April 4, 2006 due to the efforts of over 70 wildland firefighters. To view the full story refer to park newsletter, The Oasis, Vol. 1 Issue 8.