Pauline Cushman-Fryer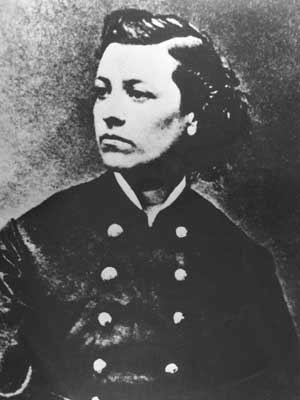 Though trained as an actress, Pauline Cushman-Fryer's legacy is her service as a spy for the Union during the Civil War. During a stage performance in Louisville, Kentucky, Cushman-Fryer boldly proposed a toast to Jefferson Davis at the behest of Union officers (in the script, the toast was supposed to go to President Lincoln). Impressed by her "loyalty," Confederate officers took her into their confidence. Months later, a curious Confederate sentry arrested her with information on the whereabouts of the Army of Tennessee and she was sent to Gen. Bragg's headquarters. When her identity as a spy was confirmed, Pauline Cushman-Fryer was sentenced to be hanged.
Before the sentence could be carried out, however, Union forces captured the town of Shelbyville and the Confederates quickly retreated--leaving Cushman-Fryer behind. Following her brush with death, the army awarded Pauline Cushman-Fryer the brevet rank of major for her heroic service as a spy. She died in San Francisco in 1893 and is interred in the San Francisco National Cemetery in the Presidio.
Pauline Cushman-Fryer is buried in the Officers' Section.
Last updated: February 28, 2015