Red Barn Art Exhibitions: Portus Novæ Albionis {{close discoveries}}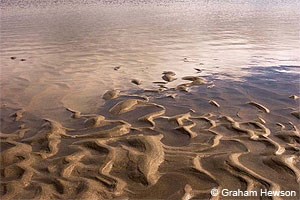 "Portus Novæ Albionis {{close discoveries}}"
July 1, 2010 through September 30, 2010
Photographer Graham Hewson's photographs of scenes from Drakes Estero and Estero de Limantour were on display in the Red Barn Classroom from Thursday, July 1, 2010, through Thursday, September 30, 2010. There was also a photographer's reception at the Red Barn Classroom on Sunday, July 11, 2010.
Visit the Red Barn Art Exhibitions section of our Indoor Activities page to find out what is currently on display. The Red Barn Classroom gallery is open by appointment only, Mondays through Fridays, 9 am to 4 pm. Please contact Carola DeRooy at 415-464-5125 or by email to schedule an appointment or for more information.
To get to the Red Barn Classroom, follow the directions to Point Reyes National Seashore. As you proceed up the driveway toward the Bear Valley Visitor Center, turn left at the sign for the Red Barn Classroom.
Last updated: November 17, 2014