Red Barn Art Exhibitions: "Marin, Sweet Marin"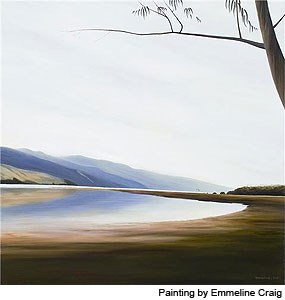 "Marin, Sweet Marin"
October 11, 2012, through January 11, 2013
Born in France, West Marin artist Emmeline Craig infuses her oil and watercolor paintings with blissfulness. Her intention is to soothe the mind, lift the spirit and feed the soul with primal exhilaration. Her landscapes incorporate peacefulness with whimsical humanity and place us in simple and beautiful landscapes that are unique to Marin. Her exhibit featured original works and Giclee prints on canvas and paper.
In addition to the exhibition, the public was invited to an artist's reception at the Red Barn Classroom on Saturday, October 27, 2012.
Visit the Red Barn Art Exhibitions section of our Indoor Activities page to find out what is currently on display. The Red Barn Classroom gallery is open by appointment only, Mondays through Fridays, 9 am to 4 pm. Please contact Carola DeRooy at 415-464-5125 or by email to schedule an appointment or for more information.
To get to the Red Barn Classroom, follow the directions to Point Reyes National Seashore. As you proceed up the driveway toward the Bear Valley Visitor Center, turn left at the sign for the Red Barn Classroom.
Last updated: November 17, 2014