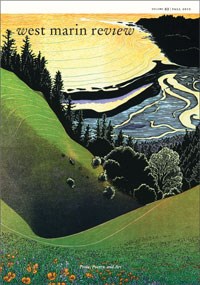 "A Celebration of Art and the Community"
January 10, 2011, through March 31, 2011
Artwork from Volume III of the West Marin Review was on display in the Red Barn Classroom weekdays from Monday, January 10, 2011, through Thursday, March 31, 2011. There was also a Book Release Party at the Red Barn Classroom on Sunday, January 23, 2011.
Visit the Red Barn Art Exhibitions section of our Indoor Activities page to find out what is currently on display. The Red Barn Classroom gallery is open by appointment only, Mondays through Fridays, 9 am to 4 pm. Please contact Carola DeRooy at 415-464-5125 or by email to schedule an appointment or for more information.
To get to the Red Barn Classroom, follow the directions to Point Reyes National Seashore. As you proceed up the driveway toward the Bear Valley Visitor Center, turn left at the sign for the Red Barn Classroom.