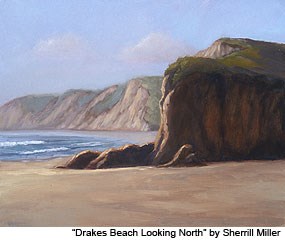 "BayWood Artists Celebrate Point Reyes: 50 Years of Beauty"
Show: Labor Day Weekend: September 1, 2, & 3, 2012
Additional viewing was by appointment: September 4 through 27, 2012
The BayWood Artists is a non-profit organization of well known professional artists dedicated to preserving the open spaces of the greater Bay Area, the lands they love, for future generations. Through annual exhibits and the sale of paintings, the artists hope to focus attention on, and raise funds and awareness for, those lands and the organizations committed to their preservation. This year's exhibitions celebrate the 50th anniversary of the Point Reyes National Seashore and raises funds for the Point Reyes National Seashore Association.
BayWood Artists: Chris Adessa, Christin Coy, Ben Farnham, Jon Francis, Paul Krattner, Sherrill Miller, Victoria Mimiaga, Zenaida Mott, Lissa Nicolaus, Tom Soltesz. 2012 Guest Artists: Krystal Allen, Martha Borge.
After the September 2012 BayWood Artists exhibition in the Red Barn Classroom ended on September 27, the show continued at The Bay Model Gallery at 2100 Bridgeway, Sausalito from October 5 to 26, 2012, 9 am to 4 pm.
The public was also invited to an Artists' Reception on Friday, October 5, 2012, from 5 pm to 8 pm at the Bay Model.
Visit the Red Barn Art Exhibitions section of our Indoor Activities page to find out what is currently on display. The Red Barn Classroom gallery is open by appointment only, Mondays through Fridays, 9 am to 4 pm. Please contact Carola DeRooy at 415-464-5125 or by email to schedule an appointment or for more information.
To get to the Red Barn Classroom, follow the directions to Point Reyes National Seashore. As you proceed up the driveway toward the Bear Valley Visitor Center, turn left at the sign for the Red Barn Classroom.