Fungus Fair at Point Reyes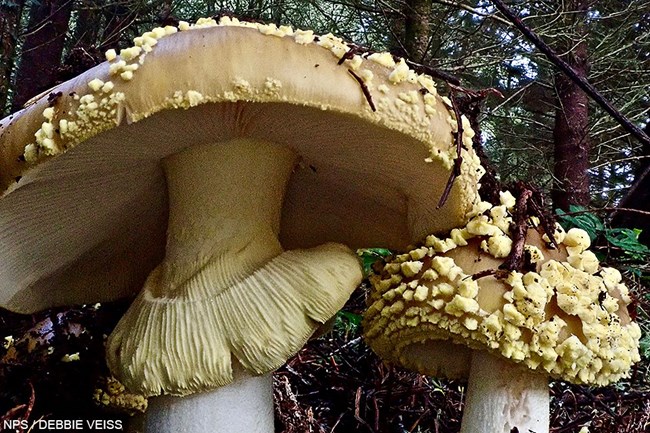 The Sixteenth Annual
BAMS / Point Reyes National Seashore
Fungus Fair
Saturday, January 28, 2023
10 am to 4 pm
This event has been rescheduled from its original date due to hazardous weather conditions, and consolidated into a one-day event.
Ever wonder about all those mushrooms you've seen in the grasslands and forests at Point Reyes National Seashore? The Fungus Fair is a perfect opportunity to see them up close and learn more about them.
Since 2005, fungi have been gathered by volunteers who collect, identify, and catalog mushrooms for an ongoing study at the Point Reyes National Seashore.
The Sixteenth Annual Fungus Fair will be repurposed this year as a one-day event on Saturday, January 28, 2023. Several mushroom-related exhibits will be on display inside the Bear Valley Visitor Center, including a brand new exhibit about "Fire and Fungi". Although there is no offical collection event this year, park visitors are encouraged to bring fresh fungi you have collected to an identification table where expert mushroom identifiers can answer your questions. For the best results, please bring the complete mushroom and note the habitat and general location where you found it. This is a free event, open to all.
Directions
For directions and a map to help you get to the Bear Valley Visitor Center, visit our Directions page.
Parking
To help reduce traffic congestion in the paved parking lot adjacent to the Bear Valley Visitor Center, please park your vehicle(s) in the gravel, trailhead/picnic area parking lot on the left (east) side of the access road close to the Bear Valley Trailhead. Parking is free. Download the Bear Valley Area Map (504 KB PDF), which shows the location of the trailhead parking lot relative to the Bear Valley Visitor Center.
More information...
Go to the Bay Area Mycological Society's (BAMS) website or contact the Bay Area Mycological Society or David Rust for more details about the Point Reyes Fungus Fair. For more information about mushrooms at the Point Reyes National Seashore, visit our Mushrooms and other Fungi page.
Guidelines for Mushroom Collecting
There are specific legal guidelines for mushroom collecting. Please visit the Collecting section on the Park Regulations page.
Please note: employee housing as well as park administrative, maintenance, operations, and storage facilities, including, but not limited, to access roads, outbuildings, grounds, and docks, are closed to public use.
Mushroom Poisonings
No mushroom should be eaten unless it can first be positively identified as edible. Learning to identify mushrooms in their many guises takes time, and reliable resources. The best way to learn about mushrooms is through local field guides and mushroom societies. Visit the Bay Area Mycological Society's Mushroom Poisonings page for more information on identifying the three most deadly mushrooms in California.
Last updated: January 10, 2023