Date & Time

Everyday from 07/01/2016 to 08/31/2016 10:00 AM to 5:00 PM

Fee Information

Free

Contact Us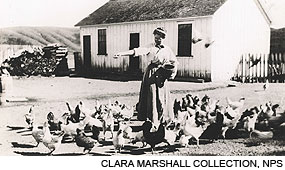 Photography Exhibition: "West Marin Vernacular"
In celebration of the centennial of the founding of the National Park Service, this show presents a collection of seldom-seen photographs of the lives and landscapes of West Marin. The oldest among them dates back to the 1850s, when many of the ranches on the peninsula were first established. Most were taken by family members and friends documenting everyday activities—afternoons on the porch, milking in the barnyard, play with dogs and children, picnics on the beach—as well as the regionalisms that characterize life in West Marin in the late 1800s and early 1900s as unique—peninsula-wide ranch parties, the Lighthouse, the Bear Valley Rodeo, the hunting lodge, shipwrecks.
The show invites visitors to consider what's changed, what remains the same, how West Marin was shaped by its inhabitants, and how the spectacular and generous landscape gave shape to their existence. Even in their era, these photos read like a place out of time: the Point Reyes peninsula was a wild and isolated place to make a life, but provided a wealth of natural beauty and resources from the forests and hills and sea. In some ways, this collection is a depiction of people celebrating their own secret paradise.
This sensibility is at the core of the National Park Service's original intent, and it is still the place Point Reyes holds in many people's hearts.
The show will be on display at Bear Valley Visitor Center through August 31, 2016, with postcards and prints for sale.