Date & Time

Multiple Days: 12/26/2015, 12/27/2015, 01/01/2016, 01/02/2016, 01/03/2016, 01/09/2016, 01/10/2016, 01/16/2016, 01/17/2016, 01/18/2016, 01/23/2016, 01/24/2016, 01/30/2016, 01/31/2016, 02/06/2016, 02/07/2016, 02/13/2016, 02/14/2016, 02/15/2016, 02/20/2016, 02/21/2016, 02/27/2016, 02/28/2016, 03/05/2016, 03/06/2016, 03/12/2016, 03/13/2016, 03/19/2016, 03/20/2016, 03/26/2016, 03/27/2016 11:00 AM to 4:30 AM

Fee Information

Free

Contact Us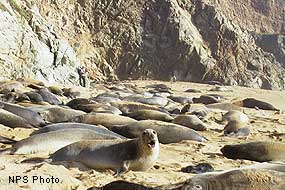 Weekends and holidays, December 26, 2015, through March 27, 2016, weather permitting. Volunteer docents will be stationed at the Elephant Seal Overlook near Chimney Rock from 11 am to 4:30 pm. Visitors will be able to view an elephant seal colony through park-provided binoculars and scopes. Ask the volunteer docents about the amazing adaptations and life cycles of northern elephant seals.
The Historic Chimney Rock Lifesaving Station may also be open from 11 am to 4:30 pm. Kids activities, a 10-minute video on elephant seals, and complimentary hot beverages (cocoa, tea, coffee) will be available.
IMPORTANT NOTE: Due to the high volume of traffic out to the Lighthouse and Chimney Rock areas during the gray whale migration, the park will be operating a shuttle bus system from the Drakes Beach parking lot (usually from New Year's weekend to Easter each year on weekends and holidays-weather permitting). Sir Francis Drake Boulevard from South Beach to the Lighthouse and Chimney Rock areas WILL BE CLOSED during shuttle operating hours.