Date & Time

05/30/2016 1:30 PM to 5:00 PM

Fee Information

Free

Contact Us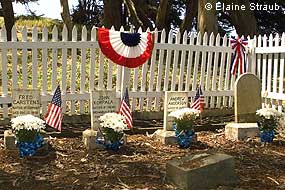 Point Reyes National Seashore will be honoring America's fallen at on Monday, May 30, 2016, at the historic graveyard located at G Ranch. Join the National Park Service and the U.S. Coast Guard at 1:30 pm for services at the Historic Life-Saving Service Cemetery. The small cemetery contains the graves of five surfmen who died serving their country as part of the lifesaving crew that operated on the Point Reyes Headlands. Over the course of 78 years, crews saved over 240 lives while participating in an estimated 100 rescues in cold Pacific Ocean waters.
Following the ceremony, there is an open house at the Point Reyes Lifesaving Service Lifeboat Station at Chimney Rock from 3 pm to 5 pm. As part of Memorial Day events across the country, participants are asked at 3 pm to pause and remember America's fallen wherever you are.

The cemetery is located on a beautiful knoll overlooking Drakes Estero just off Sir Francis Drake near the Coast Guard facility (CAMSPAC) in the northern district of Point Reyes. A new parking area has been constructed on the Coast Guard access road and the cemetery is a short walk from the paved access road. Parking near the cemetery is limited and participants may need to park their vehicle on the shoulder of the CAMSPAC access road. Participants should wear comfortable shoes and weather-appropriate clothing. To visit the gravesite, follow the Directions from the Bear Valley Visitor Center to the Historic Life-Saving Service Cemetery.
Directions from the Bear Valley Visitor Center to the Historic Lifeboat Station at Chimney Rock