Martin Luther King Jr. Day of Service - Restore the coastal dunes at Abbotts Lagoon
Date & Time

01/16/2017 9:30 AM to 2:00 PM

Fee Information

Free

Contact Us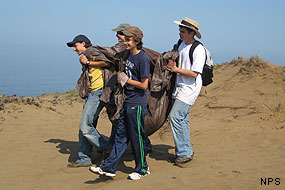 Join Point Reyes National Seashore to help remove invasive plants around Abbotts Lagoon on the annual Martin Luther King Jr. Day of Service.
Come spend Martin Luther King Jr. Day at the beautiful and scenic Abbotts Lagoon. Have lunch watching the waves lap the shore and help the dune restoration team remove searocket, as well as New Zealand spinach, iceplant, and nightshade—invasive plants that are threatening a newly thriving patch of Tidestrom's lupine (a federally endangered species). The area in which we are removing plants was originally covered in invasive European beachgrass and, after an extensive removal process, we've managed to bring the dunes back to a more natural state. However, we now have new invasive species popping up. Come help us continue the restoration!
In addition to the restoration work, Cody Ender—the park's Coastal Dune Technician—is going to give an introduction to the site and insight into managing the Coastal Dune Restoration Projectfor the park.
We are planning to meet at the the "Antenna Farm" Wayside, off of Sir Francis Drake, at 9:30 am on Monday, January 16. You can park there and we will ferry you out to the site. We plan to work until 2pm.
Please wear sturdy shoes, long pants, and bring a water bottle (around 2 litters for the day). We will have water in the truck but it is a long walk from the work site. Also, there are no bathrooms at the site; the closest are located at the North Beach Parking Lot. Please bring in your own lunch.
Advanced Registration Required
Please contact Cain Buckler by email to register or for more information, or call 415-464-5203.
Everybody that joins either of the projects is required to fill out and sign a Volunteer Agreement form. (175 KB PDF) Children under 18 years of age will need a parent to sign a release form.
Download the MLK Day Event Flyer (249 KB PDF)
If you would rather help clean up litter and marine debris from Limantour Beach on Martin Luther King Jr. Day of Service, Point Reyes National Seashore will also be hosting a Beach Cleanup from 11 am to 2 pm.
---