Save Native Plant Habitat at Point Reyes with the Third Thursday Weeders
Date & Time

Multiple Days: 09/20/2018, 11/15/2018, 01/17/2019, 02/21/2019 9:30 AM

Fee Information

Free

Contact Us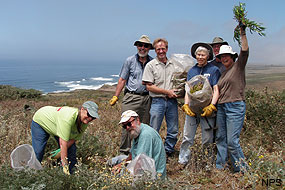 Join the Marin Chapter California Native Plant Society's "Third Thursday Weeders" to spend a day at beautiful Point Reyes and help tackle invasive weeds that threaten important plant habitat in the Point Reyes National Seashore.
Please email Carolyn Longstreth in advance to RSVP and for more details and to get directions to the meeting place. The Weeders meet near the work site at 9:30 am and work until 1 pm, followed by lunch on-site.
The Third Thursday Weeders meet on the third Thursday of most months at 9:30 am, usually at a trailhead near the work location. They visit beautiful sites to conduct important follow-up removal to maintain and enhance large-scale restoration projects. The workday usually involves a chance to view native plants—often including rare species—that are recolonizing the areas. Be sure to check this page or contact us every month in the week prior to the workday for the latest details concerning where to meet.
If you are interested in helping restore habitat at Point Reyes, but can't participate on Thursdays, join us for Habitat Restoration Program workdays, which are held on either the second or last Sunday of the most months.
California Invasive Species Action Week
The 2018 California Invasive Species Action Week was observed from Saturday, June 2, through Sunday, June 10, 2018. The goal of the Action Week is to increase public awareness and promote public participation in California's fight against invasive species. There are numerous ways for people to participate, either independently, or as part of an organized effort. For example, you can learn which invasive species are issues in your area, remove invasives from your property, select native plants for your garden, harvest them for food, or volunteer to remove invasives from a participating park.
California Invasive Species Action Week Youth Art Contest
Kids, you can learn about an invasive species that threatens your favorite outdoor place, and enter the Department of Fish and Wildlife's "Pledge to Not Spread!" youth art contest. The deadline for entries was June 1, 2018, and winners were announced during the Action Week! Check out the CISAW web page for poster contest details and to find out how you can take action: www.wildlife.ca.gov/Conservation/Invasives/Action-Week.
The CISAW Schedule of Events will be filled with volunteer opportunities and events hosted by the Department of Fish and Wildlife, California's National and State Parks, and dedicated volunteer programs and organizations across the state. Check the Action Week web page to find a participating organization or event near you, or for details on hosting a project or event of your own!
---