Date & Time

04/22/2017 9:30 AM to 2:30 PM

Fee Information

Free

Contact Us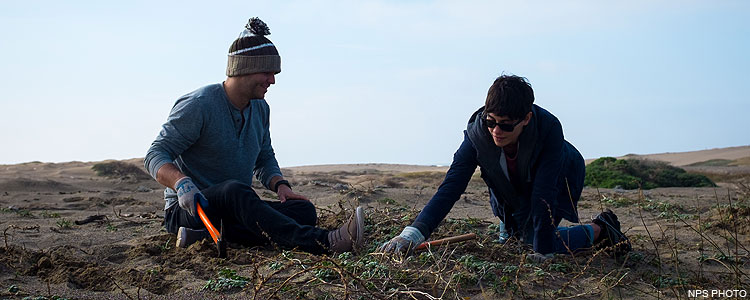 Yoga and Dune Restoration at Point Reyes
Saturday, April 22
9:30 am–2:30 pm
Come and spend Earth Day at the beautiful and scenic Abbotts Lagoon in Point Reyes, where many plants are in spring bloom. Help the dune restoration team remove European searocket, an invasive plant that is threatening a thriving patch of Tidestrom's lupine (a federally endangered species). Afterwards, have lunch watching the crashing waves and spend about 30–45 minutes doing yoga on the beach with the well traveled and certified Yoga Instructor Diana May Oppenheim. Come prepared to work hard, have fun and feel really good by the end of the day! Bring your own packed lunch and lots of water! Work gloves and tools will be provided. To sign up, please contact Cain by email. For more details on the day see below.
Restoration:
Our park recently restored a large swath of coastline near the beautiful Abbotts Lagoon and removed a huge population of invasive European beachgrass. After the extensive restoration process, we were amazed to discover a federally endangered plant called Tidestrom's lupine had quickly colonized the newly restored area, becoming one of the largest populations in the park. However, some wet winters have opened the door to some new invasives such as European searocket and New Zealand spinach. These plants are growing at such a rate that they are threatening the long-term viability of the lupine, as well as other species that depend on native dunes such as western snowy plover and Myrtle's silverspot butterfly. If we are going to keep these new invaders out, we need your help!
Yoga:
Diana May Oppenheim is an in-it-for-life yogi as well as an outdoor enthusiast. She believes that yoga, like nature, can be enjoyed by everyone regardless of age, race, gender and even capability! All are welcome. In her classes you'll find a well-thought out sequence that focuses on breath, mindfulness, self-inquiry and meets each person where they are at.
Worksite and Meet Times:
Workdays will be held in a very sensitive area that is off the beaten path and generally not traveled by tourists, so it's going to be quite the day! It is about a 20 to 30 minute walk on sand dunes to get to the worksite.
Meet at the "Antenna Farm" Wayside at 9:30 am. (Map) Feel free to park here and we will ferry you the rest of the way to the work site in a four-wheel-drive vehicle. We will be out in the dunes until 2:30 pm.
Recommended Gear:
Please wear sturdy shoes, long pants, and bring a water bottle and a sack lunch. We will have water in the truck, but it is quite a long walk to the site, so it is recommended that volunteers bring plenty of water (around 2 liters for the day). There are no restrooms at the site and the nearest restrooms are at the North Beach parking lot, so please keep that in mind. The park will provide all the tools and gloves necessary.
Because of the rain, some of the areas have become rather muddy, so we suggest you bring rubber boots. We have plenty in our cache if you need to borrow a pair. Just us know your size.
If you would like to volunteer to restore native habitat by removing invasive plants from Point Reyes, but can't participate on Saturday, April 22, check out these other opportunities: