Date & Time

Multiple Days: 06/03/2018, 08/26/2018, 09/30/2018 9:00 AM to 1:00 PM

Fee Information

Free

Contact Us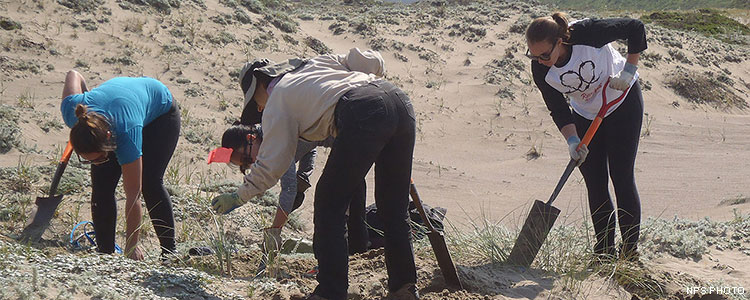 Volunteers help protect and restore endangered plant and wildlife habitat at Abbotts Lagoon, the Lighthouse Bluffs, and other high value habitat areas at Point Reyes National Seashore. Visit some of the most beautiful areas in the park and learn about local plant ecology while you work alongside park staff to carry out ecological restoration projects. We encourage volunteers nine years of age and older of all backgrounds and experience levels to participate. Tools, gloves, and training are provided. Participants are advised to wear sturdy shoes, long pants, long-sleeved tops, and other seasonally appropriate clothing (i.e., extra warm/windproof layers), as well as to bring lunch and water. Get involved, meet new people, and make a positive impact on your environment!
Please join us for our next Habitat Restoration Program (HRP) volunteer workday on Sunday, August 26, 2018 to work at a site new to the HRP team, removing cape-ivy from within the Muddy Hollow floodplain. Cape-ivy (Delairea odorata), an evergreen vine from South Africa that can be toxic to fish and other organisms, is one of Point Reyes' highest-priority invaders. This infestation, discovered by a park visitor in late 2015, is in a reach of the perennial stream with few other invasive species and with a strong native plant component. However, cape-ivy grows extremely fast and is easily transported downstream. Manual removal was initiated in 2017; during much of the year, the stream level is too high to allow access; in late spring/early summer, bird nesting restrictions prevent treatment.
Meet at 9 am in front of the Bear Valley Visitor Center. From there we'll carpool and caravan to the Muddy Hollow Trailhead. Participants should be prepared to hike about 3/4 miles on the trail, then cross the creek (low in late summer) and work some areas that may be muddy. A low level of poison oak is present near the trail but should be avoidable. We will work until 1 pm, and then have lunch near the work site.
We need at least four volunteers to confirm their participation by 2 pm on Thursday, Sugust 23, 2018, in order to hold this workday. This workday is limited to 14 participants and there is an age limit of at least 14 years old. Please RSVP to Ellen Hamingson at 415-464-5196 or by email so that she can plan accordingly. She will be in touch with those who respond if inclement weather or lack of participants forces cancellation of the workday.
If you are interested in helping restore habitat at Point Reyes, but can't participate on Sundays, join us for Third Thursday Weeders workdays, which are held on the third Thursdays of some months.
California Invasive Species Action Week
The 2018 California Invasive Species Action Week was observed from Saturday, June 2, through Sunday, June 10, 2018. The goal of the Action Week is to increase public awareness and promote public participation in California's fight against invasive species. There are numerous ways for people to participate, either independently, or as part of an organized effort. For example, you can learn which invasive species are issues in your area, remove invasives from your property, select native plants for your garden, harvest them for food, or volunteer to remove invasives from a participating park.
California Invasive Species Action Week Youth Art Contest
Kids, you can learn about an invasive species that threatens your favorite outdoor place, and enter the Department of Fish and Wildlife's "Pledge to Not Spread!" youth art contest. The deadline for entries was June 1, 2018, and winners were announced during the Action Week! Check out the CISAW web page for poster contest details and to find out how you can take action: www.wildlife.ca.gov/Conservation/Invasives/Action-Week.
The CISAW Schedule of Events will be filled with volunteer opportunities and events hosted by the Department of Fish and Wildlife, California's National and State Parks, and dedicated volunteer programs and organizations across the state. Check the Action Week web page to find a participating organization or event near you, or for details on hosting a project or event of your own!