Date & Time

Multiple Days: 12/02/2017, 12/09/2017, 12/16/2017, 12/23/2017, 12/24/2017, 12/26/2017, 12/30/2017, 12/31/2017, 01/06/2018, 01/13/2018, 01/20/2018 12:00 PM to 2:00 PM

Fee Information

$15 per person donation requested

Contact Us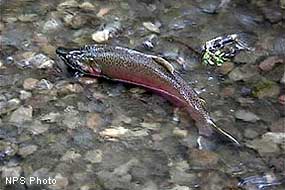 With the first hard rains in the watershed comes the beginning of spawning season for coho salmon. Join Salmon Protection and Watershed Network (SPAWN) for a leisurely-guided tour through the diverse Lagunitas Watershed to look for returning coho salmon that come here to spawn. Tours will meet at Samuel P. Taylor State Park near the first set of bathrooms in the picnic area and embark on a journey to multiple creek sites in search of some of these critically endangered salmon. Tours are open to all ages and abilities.
*Creekwalk Pre-Registration Required*
$15 per person donation requested
$35 Turtle Island Membership - includes a free family creek walk
Lagunitas Creek Watershed is home to the largest remaining run of Central California Coast Coho Salmon, making it a critically important ecosystem to protect. SPAWN works to restore habitat, educate the public, and develop policy to protect this often-overlooked species. Salmon play a critical role in this ecosystem delivering essential nutrients from deep in the ocean, to our beloved redwood forest. By taking your time to learn more about our neighboring coho and supporting SPAWN, we can work together to ensure our Samuel P. Taylor State Park and surrounding forests are thriving for generations to come!
Questions can be emailed to SPAWN's Education Specialist Catie Clune.