Ocean Updates - April 2008
April 21, 2008
Vol. 1, Issue 5
Marine Life Protection Act (MLPA) Update
The Blue Ribbon Task Force (BRTF) and the Regional Stakeholders Group for the MLPA is meeting tomorrow and Wednesday at the Embassy Suites Hotel in San Rafael. They will be reviewing the three stakeholder group proposals for marine protected areas along our coast and the BRTF will be making a decision as to which proposal to forward onto the Fish and Game Commission. The public are invited to attend, show support for a particular proposal, and make comments. The National Park Service has sent an official endorsement of Proposal 4. More information can be found at http://dfg.ca.gov/mlpa.
Coral at Bikini Atoll recovery 50 years after nuclear bombs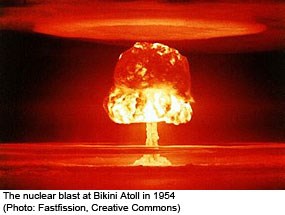 Twenty-three nuclear bombs were detonated between 1946 and 1958 in the northern coral atolls of the Marshall Islands in the Central Pacific. The deepest crater – Bravo Crater –was created by a 15 megaton atomic bomb about a thousand times more powerful than the Hiroshima. The Bravo crater measures at 2km wide and 73m deep, and the bomb that created it raised sea surface temperatures by 55,000 degrees C, and sent shock and surface waves up to 30 m high with blast columns reaching the 70m deep lagoon floor.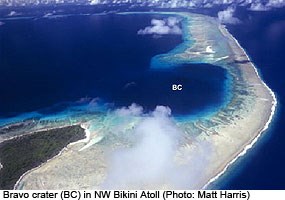 Since the nuclear testing of the 1950's, the reef at Bravo crater has been undisturbed for fifty years. Zoe Richards and colleagues conducted an ecological survey of the coral reefs at Bravo crater to assess the long-term consequences of major anthropogenic disturbance events. They found a surprising result: a thriving coral reef with huge matrices of branching Porites coral (up to 8 meters high), coral cover as high as 80% and large branching coral formations with trunks 30 cm thick. In total, they found 183 species of Scleractinian (hard) coral.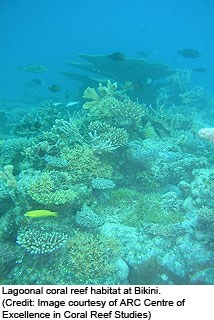 These results were compared with a pre-bomb survey of the coral reefs at Bikini Atoll published in 1954, and they found that at least 28 species of coral were extinct, mostly those that were fragile lagoonal specialists. The authors suggested that the recovery was mostly due to repopulation by neighboring reefs, such as the large, diverse Rongelap atoll, which probably "contributed a significant proportion of new propagules to enable recovery of the Bikini coral community, as Bikini Atoll lies downstream of the prevailing surface current from Rongelap."
"Ironically, thanks to the bombs, Bikini Atoll represents a priceless laboratory showing how in the absence of ongoing stress, some corals have the capacity to recover from vast upheavals, which may contain valuable lessons for the management of reefs in other parts of the world," says lead author Zoe Richards, as quoted in ScienceDaily (April 16, 2008). Though the magnificent coral reefs are commonly perceived as fragile and easily destructible, this study shows that there is indeed hope for coral reef recovery within relatively short timescales.
Source: Richards, ZT, M Beger, S Pinca, CC Wallace. (2008). "Bikini Atoll coral biodiversity resilience five decades after nuclear testing." Marine Pollution Bulletin.56. 503-515.
Last updated: February 28, 2015