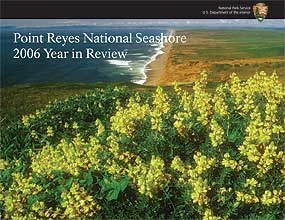 Complete Document (2,888 KB PDF)
This document has been divided into smaller-sized files so that visitors with slower internet connections have the option of downloading desired chapters and/or figures separately if they do not wish to download the complete document as a single large file.
Cover (387 KB PDF)

Inside Cover - Photo of Drakes Beach (377 KB PDF)

A Message from the Superintendent (p. 1) (166 KB PDF)

Park Map (p. 2) (89 KB PDF)

Overview of Point Reyes National Seashore (p. 3) (118 KB PDF)

Highlights from this past year - Photo of Limantour Beach (p. 4) (439 KB PDF)

Wildlife Monitoring Results (p. 5) (67 KB PDF)

Using Resources to Teach, Inspire and Reconnect (p. 6) (144 KB PDF)

Visitor and Resource Protection (p. 7) (155 KB PDF)

Vegetation Management (p. 8) (186 KB PDF)

Rare Plant Conservation (p. 9) (106 KB PDF)

California Exotic Plant Management Team (p. 10) (415 KB PDF)

Range Management Program (p. 11) (150 KB PDF)

Monitoring Changes in Seal Populations (p. 12) (99 KB PDF)

Protecting Quiet Soundscapes (p. 13) (157 KB PDF)

Facility Management Makes a Difference (p. 14) (85 KB PDF)

Science Behind the Scenery (p. 15) (80 KB PDF)

Where Have All the Plovers Gone? (p. 16) (66 KB PDF)

Fire as a Resource Tool (p. 17) (64 KB PDF)

Site Preparation Begins at Point Reyes (p. 18) (54 KB PDF)

Historic Preservation (p. 19) (64 KB PDF)

Back Cover (106 KB PDF)
Adobe® Acrobat Reader® is needed to view PDF documents. PDF documents will open in a new window.