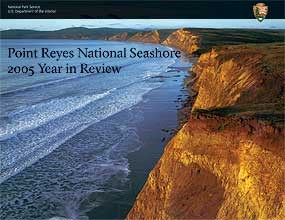 Complete Document (8,214 KB PDF)
This document has been divided into smaller-sized files so that visitors with slower internet connections have the option of downloading desired chapters and/or figures separately if they do not wish to download the complete document as a single large file.
Cover (1,921 KB PDF)

Inside Cover (832 KB PDF)

A Message from the Superintendent (p. 1) (203 KB PDF)

Park Map (p. 2) (751 KB PDF)

Overview of Point Reyes National Seashore (p. 3) (288 KB PDF)

Photo of Horseshoe Pond and Douglas Iris (p. 4) (1,180 KB PDF)

Monitoring Success (p. 5) (744 KB PDF)

A Visit from the Director and Other Dignitaries (p. 6) (630 KB PDF)

Wildlife Monitoring Continues (p. 7) (233 KB PDF)

Using Resources to Teach, Inspire and Reconnect (p. 8) (804 KB PDF)

Fire Management Activities (p. 9) (213 KB PDF)

Pacific Coast Science and Learning Center (p. 10) (172 KB PDF)

Western Snowy Plovers Recovery Efforts (p. 11) (191 KB PDF)

Pinniped Monitoring (p. 12) (206 KB PDF)

Giacomini Wetland Restoration and Horseshoe Pond Restoration to Coastal Lagoon (p. 13) (185 KB PDF)

Coho Salmon and Steelhead Trout (p. 14) (199 KB PDF)

Visitor and Resource Protection (p. 15) (524 KB PDF)

Improving Habitat for Native Species (p. 16) (156 KB PDF)

A Year of Major Repair and Construction (p. 17) (255 KB PDF)

Back Cover (215 KB PDF)


Adobe® Acrobat Reader® is needed to view PDF documents. PDF documents will open in a new window.