Phase I Components - Detailed Description
---
summary of construction under phase I and II includes:
---
Dairy Barn Demolition:
As part of Phase I, most of the barns, dairy buildings, and related structures within the Project Area were demolished, with the majority located on the mesa section of the Giacomini Ranch immediately adjacent to Point Reyes Station. More than 90 percent of the material demolished was recycled at recycling centers or locally.

Manure Areas:
The manure pasture represents a 13-acre ruderal pasture where manure solids were typically spread in a thick layer on an annual basis. Because of the high concentrations of nutrients and potentially pathogens in the manure disposal pasture, removal of the most heavily concentrated surface layers of manure was considered essential to ensure that these pollutants were not disturbed during overbank flooding and dispersed downstream to Tomales Bay. In higher elevation portions of the manure disposal pastures (>6 feet NAVD88), approximately 1–1.5 feet of soil was excavated and hauled less 0.25 miles to the Manure Disposal Ponds at the Dairy Mesa. Approximately 20,000 cubic yards of excavated soils were used to fill the Manure Disposal Ponds. Soil testing conducted after excavation suggests that scraping could have reduced total nitrogen in surface soils by as much as 36 percent (NPS, unpub. data).

Levee Removal:
During the project planning and analysis stages, the south levee was identified as a primary feature that aggravated flooding and flood elevations to adjacent private properties during the 2–10 year events. Larger scale events result in broader flooding effects, which are less influenced by levees. The levee was set back from the Lagunitas Creek channel approximately 30 to 50 feet. During Phase I, approximately 2,200 lineal feet of levee was removed, with excavated soils being used for final grading of the Dairy Mesa.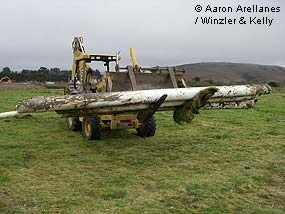 Infrastructure Removal:
The East Pasture of the Project Area was extensively modified to support the irrigated pasture and rotational grazing practices. Removal of pipelines and other infrastructure, including electrical lines, transmission facilities, pumphouse, and fencing, was conducted. The materials removed as part of these activities were either recycled or transported to appropriate facilities for disposal.
Grading of the Manure Ponds and Dairy Mesa:
As part of the deconstruction of the dairy facility, the manure pond and immediately surrounding area (total of 2.36 acres) in the Giacomini dairy complex was regraded and compacted. Historically, manure generated from the dairy was stored in the manure ponds and spread either in a thick layer in the manure pastures or loosely throughout the East Pasture during the dry summer months. The two ponds covered approximately 1.69 acres. Soils from the Manure Disposal Pasture that were heavily laden from years of manure slurry application were placed on the bottom of the ponds, with clean soils from levee excavation and the Tomasini Triangle Marsh creation used to "cap" the ponds and provide a clean, relatively weed-free soil surface. The final grading was designed and constructed to support future public access spur trail and overlook area.

Creation of Habitat for the Federally Threatened California Red-Legged Frog:
Two freshwater marsh ponds totaling approximately 0.73 acre were created near Olema Creek for California red-legged frog habitat, and a large 5.2-acre freshwater marsh was constructed near the Dairy Mesa in the East Pasture adjacent to Point Reyes Station. Olema Marsh supports red-legged frog, as well as bullfrogs. With increase of hydraulic connectivity of Bear Valley and Olema Marsh—Bear Valley Creek runs through Olema Marsh—salinities in the marsh could climb through an increase in tidal exchange. Red-legged frog reportedly do not breed successfully in waters with salinities higher than 4.5 parts per thousand (ppt; 34 ppt is ocean water; Jennings and Hayes 1990), and salinities exceeding 7.0 ppt are believed to be lethal to tadpoles, although adult frogs have been found in higher salinity waters. The two Olema Creek frog ponds—totaling 0.73 acre in size—are built on the floodplain terrace area in between Olema Marsh and Olema Creek directly adjacent to the shutter ridge that marks the San Andreas Fault. The two ponds are designed to be inundated during the winter, spring, and early summer and dry down by late summer or fall or have just minimal ponding in the deepest portions of the pond.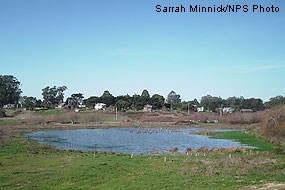 In addition to the Olema Creek Frog Ponds, a 5.2-acre freshwater marsh was created in the southeastern portion of the East Pasture near Point Reyes Station in the Tomasini Triangle. Removal of levees from the Giacomini Ranch would increase salinities, including in the area that has been used principally by red-legged frog for breeding, the West Pasture Freshwater Marsh. At the newly created Tomasini Triangle Marsh, a low-lying berm was built to ensure that higher high tides to not intrude into the marsh. As noted above, red-legged frog are reported to not breed successfully in waters with even low to moderate salinities. Based on computer hydraulic modeling, this portion of the Project Area is one of the least affected by extreme high tides. This marsh starts to fill in the fall even prior to heavy rains from increases in groundwater flow and is designed to pond through most of the spring and early summer, drying up almost entirely in late summer–early fall.
---
summary of construction under phase I and II includes:
---
Last updated: February 28, 2015