Restoration in Olema Marsh
---
summary of construction under phase I and II includes:
---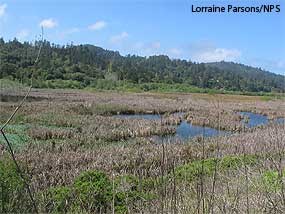 A portion of the berm along the Bear Valley Creek channel in Olema Marsh was removed to slightly decrease water levels within this impounded system and improve hydraulic connectivity with Lagunitas Creek.
During the early stages of planning, the project boundary was expanded to include Olema which is owned by the Park Service and Audubon Canyon Ranch. The Park Service, CSLC, and Audubon Canyon Ranch have proposed an adaptive restoration approach that involves sequential phasing of potential construction components, with more intensive construction components implemented only if the desired degree of restoration success is not achieved through initial measures.
The determination of success will be based on the degree to which natural hydrologic and ecological processes and functions have been restored, given that full or extensive restoration is constrained by a number of factors in this system. These constraints include Levee Road; Bear Valley Road; potential effects on salinity intrusion into local groundwater wells; and potential effects on salmonids in Bear Valley Creek, which flows through the marsh.
In the FEIS/EIR, the Park Service elected to delay implementation of major adaptive restoration actions in Olema Marsh such as culvert replacements to minimize the potential for major impacts to North Marin Water District (NMWD) operations that could result from restoring tidal influence and increasing tidal prism in this once fully tidal system. Based on hydrodynamic modeling, increasing tidal prism in Olema Marsh could elevate salinities in upstream portions of Lagunitas Creek that are adjacent to the NMWD Coast Guard municipal groundwater wells. Currently, NMWD performs off-tide pumping when predicted tides at Inverness exceed 5.9 to 6.0 feet MLLW to avoid intrusion of chlorides into the groundwater supply system, therefore, an increase in salinities could increase the duration of pumping or the time needed for freshwater recharge to reduce chlorides in the alluvial aquifer once high tides have passed. The Park Service stated in the environmental document that it will move ahead with minor restoration actions if hydrodynamic modeling and the results of existing monitoring suggest that these actions would have the potential for no more than a minor impact on NMWD operations. These minor restoration actions will also help in assessing what the true impact of fully restoring Olema Marsh would be on salinities in upstream portions of Lagunitas Creek, because actual changes in salinities associated with these actions will be monitored and used to determine the validity of the initial hydrodynamic modeling results.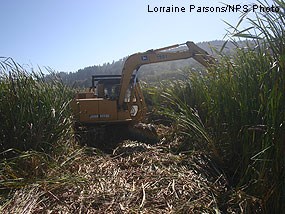 In 2008, the Park Service, PRNSA, and ACR implemented Adaptive Restoration Component #1A, which involved creating a relatively small notch in an earthen berm and excavating flowpaths to improve hydraulic connectivity. As part of the minor restoration actions described above, a notch 24-feet wide by 100-feet long and 6-feet deep was excavated in the existing earthen berm that limits outflow of Bear Valley Creek from Bear Valley Marsh. This berm, which is probably a remnant of material being sidecast or dumped into the marsh in the past, appears to be reducing outflow of the creek and causing impounding of water within the marsh by funneling streamflow through a very narrow gap in the berm.
Both prior to and after the notch was excavated, salinities and water levels in Lagunitas Creek, Bear Valley Creek, and Olema Marsh have been monitored to determine changes in conditions. Results from this monitoring are still pending. If results show that salinities exceed expected levels, corrective measures will be taken to avoid these impacts during future high tide events, including filling the notch in the berm to limit further intrusion of saltwater into or out of the marsh.
Last updated: February 28, 2015