What Did We Do to Minimize Impacts During Construction?
---
summary of construction under phase I and II includes:
---
Noise and What Was Done to Minimize Noise Impacts: Construction equipment generates noise that may be audible to adjacent residents and park visitors. Construction activities included soil excavation, rough and fine grading, and demolition of concrete, metal, and other non-soil materials. In addition, some portion of soil and non-soil materials were hauled off-site, which also generated noise along local roadways. Off-haul material was transported to regional landfills, recycling facilities, and sites designated by the Park Service (off Sir Francis Drake Boulevard and Pierce Point Road on the Point Reyes Peninsula).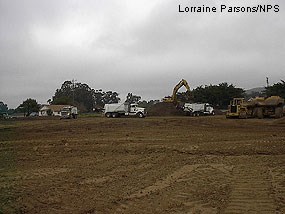 To limit noise impacts, definitive construction staging and management areas were designated. In addition, construction hours were shortened. Work at the site occurred between 8:00 a.m. and 6:00 p.m., Monday through Friday, with a few exceptions due to tides. In addition, the Park Service and PRNSA worked with the contractor to minimize the number of days in which materials are hauled. The number of daily truck roundtrips was typically limited to 40. Intermittent hauling of demolition debris to recycling centers or landfills occurred during construction. Hauling only occurred on weekdays to limit impacts on weekend traffic and noise levels. The construction contractors during both Phase I and Phase II, Hanford ARC used biodiesel-fueled vehicles for hauling of excavated sediments off-site, which helped to minimize noise impacts.
Dust and What Was Done to Minimize Dust Impacts: In addition to noise, construction equipment can generate dust that could potentially impact adjacent residences and businesses. The Park Service and PRNSA required that contractors install wind screen fencing along the construction entrance at C Street to minimize airborne dust from reaching residential and commercial areas and along the perimeter of the Giacomini property. The contractor was also required to frequently water construction areas and to sweep streets in the vicinity of site access locations. Dust generation was also reduced by requiring the contractor to wash tires of hauling trucks prior to leaving the site. Hauling trucks were required to have two feet of freeboard or space between the top of the load and top of the truck or to be tarped to minimize accidental spilling of dirt onto local roadways.
Traffic and What Was Done to Minimize Impacts on Traffic and Roads: Construction did not result in any road closures or traffic detours. However, there were some very temporary traffic delays as equipment moved on and off the site, particularly along Sir Francis Drake Boulevard in Inverness Park. As noted earlier, every effort was made to minimize the total number of days of hauling and to limit the number of daily truck roundtrips to 40. There was no hauling allowed on weekends, because of the greater potential impact due to the higher number of vehicles typically present on the weekends and holidays.
Prior to the start of construction, the Construction Manager documented the existing condition of roadways, many of which were repaved last year. Contractors were required to ensure that loads in hauling trucks did not exceed the legal limit. Damage to roads, including private roads, was required to be repaired.
Temporary and Permanent Trail Closures and What Was Done to Minimize Impacts to Residents and Visitors: During construction, some of the local trails needed to be closed temporarily to ensure that public safety was not endangered by hazardous conditions that can occur during construction. Information about trail and parking lot closures was posted prior to closure on this website, given to Interpretative Staff at the Bear Valley Visitor Center, and posted on signs at trail and road entrances. While construction schedules did not always allow for substantial notice, the Park Service strived to give at least 7 days notice prior to trail closure and to ensure that trails are closed for the minimal time necessary to complete construction.
Last updated: February 28, 2015