Repairing the Levees Necessary Before Removal
---
summary of construction under phase I and II includes:
---
The first step toward removing the levees actually involved repairing them. On July 2, the high tides caused a breach in the East Pasture that filled the northern portion of the carefully-dried pasture with water.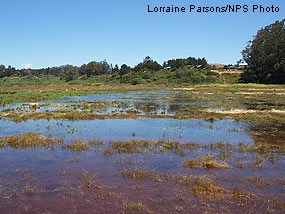 The levee breach caused the entire northern portion of the East Pasture to fill up with water. This happened only a few days before construction was scheduled to start. The Park Service had been carefully drying to ensure that the site dried—and remained dry—prior to construction.
However, water isn't the only thing that came in with the tide. When fisheries biologists went out into the East Pasture the next day, they noticed that the tides had brought in all sorts of creatures, including leopard sharks and bat rays.

An emergency rescue operation involving, at points, up to 20–25 people was conducted that day to capture the sharks using nets and to transport them to the creek and release them.

In addition, the contractor mobilized equipment within hours to fix the breach that day, working well into the evening hours to ensure that no further animals became entrained by the levees.
Last updated: February 28, 2015