Where Did Excavated Soils From Phase I and II Go?
---
summary of construction under phase I and II includes:
---
Unlike most of the wetland restoration projects in San Francisco Bay where there is a deficit of sediment, this restoration project had to contend with the fact that the Giacomini Ranch had an excess of sediment and is topographically higher in elevation than it was historically. Therefore, sediment had to be excavated in order to achieve some of the restoration goals. In the EIS/EIR, total excavation was estimated at 257,000 cubic yards (CY) of soil and more than 1,000 CY of concrete, pipe, and other non-soil materials. On-site disposal was originally estimated to be 76,000 CY, with off-site disposal closer to 170,000 CY for soil and 1,000 CY for non-soil materials.
Throughout the planning for Phase I and II, the Park Service, PRNSA, and its consultants strived very hard to minimize the amount of off-hauling of sediment from the project site by re-using soils on-site. Much of the soils retained on-site were used for final grading of the Park Service-owned portions of the Dairy Mesa, filling of the manure ponds, filling of drainage ditches, and creation of special status species habitat.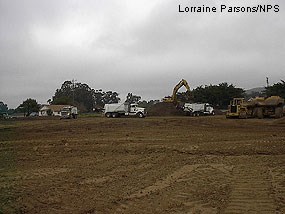 During Phase I, approximately 40,000 CY of soil was excavated, with approximately 32,300 CY reused on-site for restoration of the Dairy Mesa and creation of a berm around the Tomasini Triangle Marsh. Approximately 7,500 CY was hauled from the East Pasture to the Evans I Quarry on Tomales Point for restoration, with an additional 6,750 CY hauled from Olema Marsh after creation of the two Olema Creek Frog Ponds. During Phase II, approximately 119,000 CY was excavated, with approximately 91,103 CY re-used on-site for restoration of the Dairy Mesa, filling of drainage ditches, creation of special status species habitat, and sidecasting of soils on-site (Olema Marsh). The remainder, 27,897 CY, was hauled to the quarries.
For both phases, then, restoration resulted in excavation of 159,000 CY, a drop of 38 percent in total excavation relative to that estimated in the EIS/EIR. The amount off-hauled totaled approximately 42,147 CY, which was 75 percent less than was originally estimated in the EIS/EIR.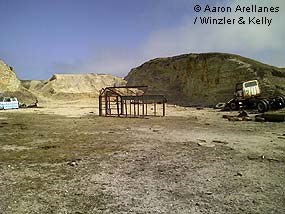 Despite these tremendous strides in reusing more soils on site, some soils still needed to be hauled off-site during construction. These soils were hauled to quarries on the Tomales Point portion of the Point Reyes Peninsula. The Park Service administratively closed quarries in the Seashore in 1991. Since then, the Seashore has been interested in restoring the quarries to a more natural appearance characteristic of this coastal prairie landscape, but the soils needed to restore the natural contours of this hillside quarries have not been available. The Giacomini project provides some soils to be used as a base for restoring the hillslope. A native topsoil layer will be placed on top of the imported soils to maintain ecological integrity and allow for appropriate native plant restoration over the next few years.
Last updated: February 28, 2015