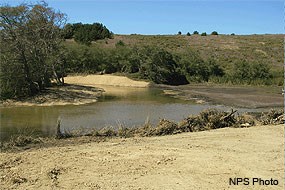 Fish passage and estuarine process will be restored. Miles of streams will be available for endangered coho salmon and threatened steelhead trout.
The park has initiated the second and final year of the Coastal Watershed Restoration Project, which includes replacement or removal of culverts and fish passage problems within the Drakes Estero watershed. The project will restore natural stream process and improve fish passage in Laguna, Muddy Hollow, Glenbrook, Home Ranch and East Schooner Creek, which will benefit federally threatened steelhead trout, and potentially endangered coho salmon. In addition, removal of two dams will restore estuarine processes to the inner arms of the Estero de Limantour. The project will also reduce the maintenance demands at Point Reyes, eliminate the risk of major failure of culverts and dams, and increase sustainability, both operationally and ecologically within these small coastal watersheds. Once completed, the entire length of Muddy Hollow creek will be available for fish spawning that should benefit coho salmon and steelhead trout, both federally listed species.
In 2007, the NPS and its contractor, Hanford Construction completed replacement restoration activities at four sites to enhance fish passage and reduce maintenance requirements. In addition to these improvements, the NPS trails program completed two trail reroutes to Estero Trail and Muddy Hollow Trail.
In 2008, project activities are occurring at three locations in the Limantour area between August 1 and October 31. These activities include removal of fill and restoration of estuarine process adjacent to the Limantour Beach parking lot and access.