Fuels Management
Fuels manangement is the manipulation of vegetation to reduce hazardous fuel and restore ecosystem health. Current fuels management is done in accordance with the National Cohesive Wildland Fire Management Strategy. The Strategy evolved from the National Fire Plan, which was initiated in 2001 and accelerated fuels management programs on all federal wildlands.
Fuels management involves many different kinds of treatment and many techniques may be used within a single large fuelbreak.
There are four major fuelbreaks at Point Reyes National Seashore:
Highway One, Bolinas Ridge, Limantour Road, and Bayview Fire Road which are ongoing, multi-year, multi-unit management areas.
There are two main cateogories of treatment: prescribed fire and mechanical treatment.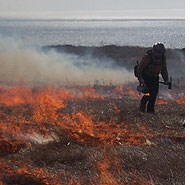 Prescribed Fire
Several prescribed burns are conducted each year in different areas of the park. Due to the proximity of developed areas, all prescribed fires are designed to be completed within a single day. Each burn unit is approximately 100 acres or less.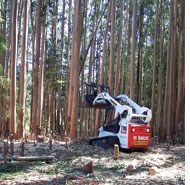 Mechanical Treatment

Cutting vegetation with chainsaws, mowers, weed wackers, and pruning shears are common fuel reduction techniques. Chippers are used to reduce the size of the larger debris so it can be used as much or hauled to a composting station.
Last updated: February 28, 2015