FIRESafe MARIN Projects - Olema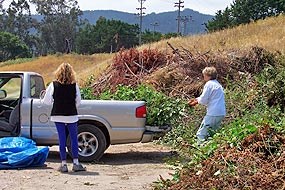 Olema Chipping Program
COMMUNITIES: Inverness Ridge, Point Reyes Station, Olema
INTERFACE: Point Reyes National Seashore
FIRE DISTRICT: Marin County Fire Department / Point Reyes Station
FUNDING PROVIDED: $20,000 (FY 2001), $20,000 (FY 2003), $12,000 (FY 2004)
OBJECTIVE: Provide a temporary transfer site, chipping program and easy disposal of organic material to facilitate a defensible space program.
DESCRIPTION: A chipping program will facilitate defensible space by providing property owners with a means of disposal for organic material. Currently, large amounts of vegetation are not being cleared because the community lost a local refuse disposal site, and the nearest site is twenty-five miles away. Neighborhoods served by this site include those affected by a major wildfire in 1995, the Vision Fire, which was ignited on public lands, and caused the loss of 45 homes.
This area is located in Bishop Pine/Mixed Evergreen Forest and Coastal Scrub vegetation types. Privately developed lands interface with NPS lands on two sides. Surrounding forests are dominated by relatively short-lived species, adapted to regular natural disturbance, particularly fire, for generational rotation and forest renewal. The undisturbed forests and brushlands are now in an over-mature condition. Nearly a century of fire exclusion has resulted in heavy fuel accumulations and a hazardous vegetation structure. Dense forest undergrowth has developed, resulting in extremely hazardous fire conditions. This unnatural fuel complex has proven to contribute to increased ignition risk, high intensity fire, high rates of spread and extreme resistance to control.
NPS/FSM TASK AGREEMENT NO. 20, 46 & 51
List of Projects | Top of Page
---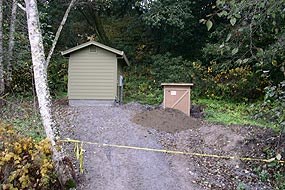 Olema Water Pump System Upgrade
COMMUNITIES: Olema, Inverness Ridge, Point Reyes Station
INTERFACE: Point Reyes National Seashore
FIRE DISTRICT: Marin County Fire Department / Point Reyes Station
FUNDING PROVIDED: $61,000 (FY 2002)
OBJECTIVE: To improve fire safety and readiness in the Marin County communities adjacent to NPS lands by replacing the existing single unit pump station with a new duplex pump station to provide emergency standby pumping capability.
DESCRIPTION: The project near Olema consists of constructing a completely new pump station adjacent to the existing pump station with two new pumps (one duty, one standby). Once construction of the new pump station is finished, the existing pump station will be demolished. The need for a pump station with standby redundancy is critical to the District's Bear Valley service area due to the limited volume of water held in storage (i.e., only 120,000 liters / 30,000 gallons).
Olema, Inverness Park, and Point Reyes Station are unincorporated villages located in the rural western portion of Marin County along the Inverness Ridge on the west side of Tomales Bay. These communities epitomize the concept of a wildland-urban interface. The area is heavily forested, roads are narrow, there are steep hillsides and canyons, and many of the residences (over a third) are vacation homes that are not occupied on a fulltime basis. Immediately to the west of the town is the Point Reyes National Seashore and park headquarters; between the Seashore boundary and the developed portions of the towns are some 200-240 hectares (500-600 acres) of densely forested watershed lands. Much of this acreage is steep, very difficult to access, and characterized by decades of accumulation of forest debris.
NPS/NMWD TASK AGREEMENT NO. 1
Last updated: February 28, 2015