Fire Ecology - Vegetation Types: Coast Redwood Forests
Coast redwood (Sequoia sempervirens) forest is found within the Seashore primarily along Bolinas Ridge with a few small pockets west of Olema Valley (see Vegetation Map). Coast redwood, a California endemic, is one of the world's tallest trees. This forest type is found in a narrow strip 450 miles long and 5 to 35 miles wide along the California coast from Del Norte county (and a few isolated stands in extreme southern Oregon) in the north to Monterey county in the south. This species is thought to be fog dependent and intolerant of sea spray. Coast redwood forest occupies approximately 3,000 acres of Point Reyes.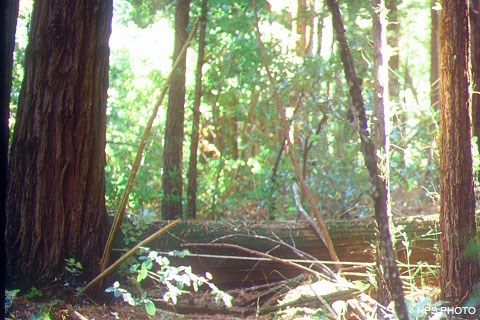 Coast redwood at Point Reyes is found in association with California bay (Umbellularia california), tanoak (Lithocarpus densiflorus) and Douglas-fir (Pseudotsuga menziesii). The shrub and herbaceous understory is variable, but often includes huckleberry (Vaccinium ovatum) and swordfern (Polystichum munitum). The Point Reyes type is somewhat unique in that it grades from redwood forest into chaparral from Bolinas Ridge down towards Olema Valley. Down slope of the ridge top it is not uncommon to see regenerating redwood trees mixed amongst manzanita and chinquapin.
Coast redwood are adapted to fire and other disturbance. Seeds germinate best on mineral soil as is exposed by flooding, fire, or wind throw for seed germination and establishment. Seeds can also germinate on duff and logs. Redwood seedlings and saplings prefer full sunlight and grow rapidly. Mature trees are extremely large and long-lived. The oldest known tree is 2,200 years old. It is not uncommon for trees to reach heights of 200–300 feet. Redwoods are prolific sprouters and can sprout from stumps, the root collar, or along the bole.
The fire return interval in coast redwood forests varies drastically with latitude, microclimate and distance from the coast. In general, forests that are further north, closer to the coast, or located on mesic sites tend to burn less frequently. Fire return intervals range from as long as 500 years on wetter, northern sites to 5–25 years on drier, southern sites. Point Reyes NS falls closer to the shorter end of the fire return interval spectrum. Researchers report a fire return interval of 7.7 years for redwood stands at Point Reyes. A study of redwood stands on Bolinas Ridge and Mount Tamalpais found point estimates of fire return interval ranging from 21.7 to 27.3 years. Because of the infrequency of natural ignitions in the San Francisco Bay area, it is likely that these relatively high fire frequencies are indicative of Native American burning practices.
Text adapted from the Point Reyes National Seashore's Draft Wildland Fire Resource Advisor Guide (2,436 KB PDF).

Adobe® Acrobat Reader® may be needed to view PDF documents.
Last updated: May 5, 2020