Fire Ecology - Vegetation Types: Coastal Dune
Native dune habitat in California is rare and is threatened both by development and by non-native species. The majority of dune habitat at Point Reyes is dominated by non-native species including European beachgrass. Approximately 2,000 acres of the Seashore is coastal dune habitat (see
Vegetation Map
).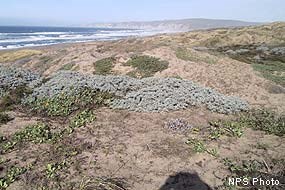 Native dune habitat is comprised primarily of dune sagebrush (Artemisia pycnocephala), coast buckwheat (Eriogonum latifolium), dune lupine (Lupinus chamissonis), or goldenbush (Ericameria ericoides). Non-native dunes are dominated by European beachgrass (Ammophila arenaria) and iceplant (Carpobrotus edulis).
Total vegetation cover in coastal dune ecosystems is often low and interspersed with bare sand. Although there may be thatch buildups in European beachgrass, these communities are generally not very flammable.
More information on the Coastal Dunes Plant Community.
Text adapted from the Point Reyes National Seashore's Draft Wildland Fire Resource Advisor Guide (2,436 KB PDF).
Adobe® Acrobat Reader® needed to view PDF documents.
Last updated: February 28, 2015