Fire Ecology - Vegetation Types: Maritime Chaparral
Maritime chaparral is found within the Seashore primarily along the southwest facing slopes of Bolinas Ridge. There are also patches of this vegetation type along Inverness Ridge (see Vegetation Map). Maritime chaparral is found along the California coast from northern Santa Barbara County to Sonoma County. It is generally found within six to 12 miles from the coast. It is characterized by a relatively large number of rare and endemic species and is threatened by development pressure. At Point Reyes, this vegetation type covers approximately 400 acres according to the 1994 vegetation map. However, this should be considered just an estimate as this vegetation type occurs as a shifting mosaic with forest types and large areas of manzanita germinated after the 1995 Vision Fire and were not captured by the 1994 mapping process.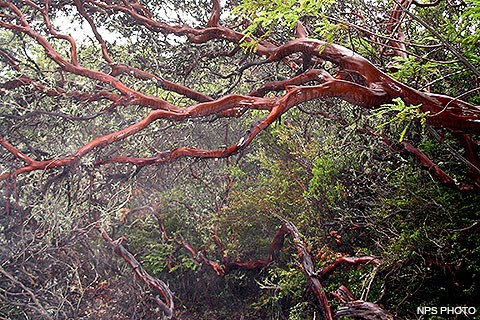 Maritime chaparral at Point Reyes intergrades with mixed evergreen forest and is bordered by coast redwood (Sequoia sempervirens) groves and riparian woodlands, which occupy moist drainages. In some locations, maritime chaparral dominated by Bolinas Manzanita (Arctostaphylos virgata) is an early successional vegetation type and is eventually shaded out by bishop pine or Douglas-fir. In other locations, such as along Bolinas Ridge, maritime chaparral appears able to persist as the dominant vegetation type indefinitely. Common maritime chaparral species at Point Reyes include Eastwood's manzanita (Arctostaphylos glandulosa), glossyleaf manzanita (Arctostaphylos nummularia), chamise (Adenostoma fasciculatum), giant chinquapin (Chrysolepis chrysophylla), buckbrush (Ceanothus cuneatus), and chaparral pea (Pickeringia montana). Also of importance in this vegetation type are the rare species Bolinas Manzanita (Arctostaphylos virgata), Point Reyes ceanothus (Ceanothus gloriosus var. exaltatus), and Mason's ceanothus (Ceanothus masonii).
Maritime chaparral is a fire dependent vegetation type. Many maritime chaparral species are obligate seeders are require fire in order to reproduce. Species such as the rare manzanita and ceanothus species listed above are examples of species that reproduce only from seed. Although occasional germination from seed may occur in disturbed areas along trails, these species require fire to scarify seeds and expose mineral soil to allow for reproduction at an ecologically meaningful scale. Although fire has not been observed along Bolinas Ridge since the establishment of the North District of Golden Gate National Recreation Area, the 1995 Vision fire did burn through areas of chaparral on Inverness Ridge. In these areas all three rare species exhibited vigorous post-fire seedling establishment. In some locations these post-fire populations are now (12 years post-fire) being shaded out by tree species such as bishop pine.
The fire regime in maritime chaparral in the absence of humans would probably have been quite long since, as discussed above, lightning along the coast is uncommon. However, fire return intervals may have been shorter prior to Euro-American settlement of the peninsula due to Native America burning. Because fire regimes in maritime chaparral are stand replacing, it is not possible to determine fire return intervals from tree rings. Little is known about seed bank longevity in maritime chaparral. One study of a chaparral community on the Central Coast indicated that a fire return interval of 40 years could be too short for obligate seeding species to build up a sufficient seed bank for recruitment of enough seedlings to maintain the population post-fire. Another study looked at vegetation change in a maritime chaparral community that had not burned in at least 70 years and over the course of their study, the authors noted a shift from chaparral species to oak woodland species and a complete lack of recruitment of obligate seeding species.
Text adapted from the Point Reyes National Seashore's Draft Wildland Fire Resource Advisor Guide (2,436 KB PDF).

Adobe® Acrobat Reader® may be needed to view PDF documents.
Last updated: May 7, 2020