Fire Ecology - Monitoring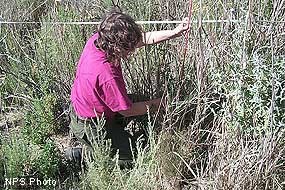 The Point Reyes National Seashore Fire Monitoring Program is designed to determine whether fire management activities are meeting fire and resource management objectives and to document any unexpected consequences of fire management activities. The monitoring program is intended to continuously inform the staff about results of management activities so that the fire management program can adapt to changing conditions using the best available information. Integration of fire monitoring data is a shared responsibility between park's fire management and natural and cultural resource management staffs.
The Wildland and Prescribed Fire Monitoring and Research Plan (2,472 KB PDF) for Point Reyes National Seashore is included as Appendix F in the park's Operational Strategy for the Fire Management Plan.
Guidelines for the monitoring program are found in the National Park Service Fire Monitoring Handbook (FMH).
Annual Fire Ecology and Monitoring Reports
2010 (321 KB PDF)
2009 (382 KB PDF)
2008 (307 KB PDF)
2007 (358 KB PDF)
2006 (235 KB PDF)
2005 (172 KB PDF)
2004 (154 KB PDF)
2003 (111 KB PDF)
2002 (213 KB PDF)
2001 (436 KB PDF)
2000 (218 KB PDF)
1999 (193 KB PDF)
1998 (165 KB PDF)
1997 (115 KB PDF)
1996 (107 KB PDF)

Adobe® Acrobat Reader® needed to view PDF documents.
Last updated: February 28, 2015