Fire Management Units - Wilderness North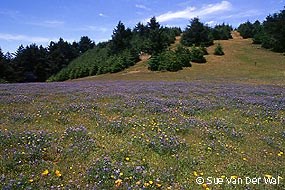 WILDERNESS NORTH (1,591 acres) - Douglas-fir forests interspersed with small open meadows characterize this FMU, which follows Inverness Ridge southeast from the Bayview Trail parking area to the Bear Valley Trail. The terrain is characterized by steep slopes that climb up from the east and west toward the central ridge. This FMU contains Mt. Wittenberg, the highest point in the planning area at 1,407 feet. Much of the unit is within the Philip Burton Wilderness Area. This unit also contains Sky Camp, a backcountry campground. Spotted owls are known to nest in this unit. This FMU supports one plant species of management concern – the California bottlebrush grass (Elymus californicus).
Vegetation Map of the Wilderness North Fire Management Unit (Low-res HTML or High-res 626 KB PDF)
Adobe® Acrobat Reader® is needed to access PDF documents. PDF documents will open in a new window.
Last updated: February 28, 2015