Fire Management Units - Palomarin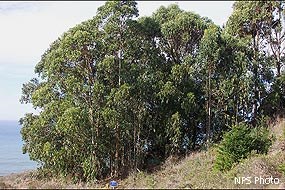 PALOMARIN (2,021 acres) - Beginning in the Philip Burton Wilderness Area near Double Point, this unit follows the coastline to the southeast to the U.S. Coast Guard property, then runs inland on the northeast side of Mesa Road. This unit supports primarily mixed coastal scrub and grasslands. The area flanking the Palomarin trailhead is characterized by an exceptional diversity of nonnative plants, including eucalyptus, French broom, cape-ivy (Delairea odorata), pittosporum (Pittosporum oblongata), periwinkle (Vinca major), Harding grass (Phalaris aquaticus), kikuyu grass (Pennisetum clandestinum), oblong spurge (Euphorbia oblongata), and others. Three plant species of management concern are located in the Palomarin FMU.
Vegetation Map of the Palomarin Fire Management Unit (Low-res HTML or High-res 562 KB PDF)
Adobe® Acrobat Reader® is needed to access PDF documents. PDF documents will open in a new window.
Last updated: May 19, 2019