Fire Management Units - Highway One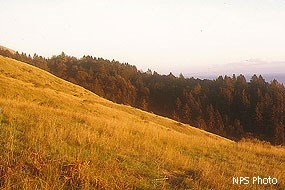 HIGHWAY ONE (2,874 acres) - This unit begins immediately south of Five Brooks and runs along both sides of Highway One south to the Bolinas-Fairfax road. This unit includes the Olema Valley, which is characterized by the riparian corridors along Olema and Pine Gulch creeks and their tributaries. These waterways support coho salmon and steelhead trout. Above the riparian areas, the vegetation is dominated by annual grassland, mixed scrub, and hardwood communities. In many areas, the grasslands are grazed by cattle. This FMU supports dense stands of French broom and eucalyptus. Most of the unplanned ignitions that occur in the entire planning area result from car travel in this FMU.
Vegetation Map of the Highway One Fire Management Unit (Low-res HTML or High-res 761 KB PDF)
Adobe® Acrobat Reader® is needed to access PDF documents. PDF documents will open in a new window.
Last updated: February 28, 2015