Fire Management Units - Headlands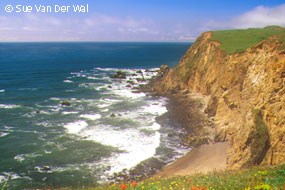 HEADLANDS (881 acres) - The Point Reyes Lighthouse bluffs and Chimney Rock area at the westernmost tip of Point Reyes comprise this FMU. It contains some areas of designated wilderness along the outer bluffs. Vegetation on the unit is dominated by grassland and patches of mixed coyote brush and coastal scrub. This FMU has been subject to intense grazing pressure from cattle in the past, and currently some areas continue to be grazed, while others have been excluded from grazing. Twelve plant species of management concern occur in this FMU; five of these are federal Species of Concern, one is state-listed as rare (Point Reyes blennosperma), and one is state-listed as endangered (Point Reyes meadowfoam - Limnanthes douglasii var. sulphurea). The Headlands harbor sensitive animal species such as brown pelican and Steller sea lions. Other sensitive animal species include nesting seabirds such as ashy stormpetrel. Marine mammals such as harbor seals are sensitive to human activities including low flying helicopters. Lands within this FMU receive very high levels of visitor use, and are popular for wildflower viewing in the spring.
Vegetation Map of the Headlands Fire Management Unit (Low-res HTML or High-res 508 KB PDF)
Adobe® Acrobat Reader® is needed to access PDF documents. PDF documents will open in a new window.
Last updated: February 28, 2015