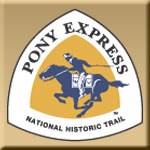 Below is a current listing of Pony Express National Historic Trail and Auto Tour Route Interpretive Guides in Acrobat Reader PDF document format.
For a hard copy of the official Pony Express trail brochure e-mail us.
To download the map from this guide: https://hfc.nps.gov/carto/PDF/MOPImap1.pdf
Download the text only trail brochure in large print.
The guide is formatted for ADA standards when printed at 11" x 17".
To receive a printed copy e-mail us.
The Auto Tour Route Interpretive Guide series are state by state guides that provide an overview of local trail history and driving directions to suggested sites and points of interest that provide interpretive media and/or educational services.The series can also be found in printed publication format at many travel and tourism centers along the historic trail route.
The Auto Tour Route Interpretive Guide series are a work in progress. Below are the interpretive guides currently available. As new guides are developed, they will be posted here.
The button link to the upper-right will take you to the web site pages with the state by state general driving directions for the Pony Express Auto Tour Route.