Date:
May 21, 2007
Contact:
Tom Crews (NPEA)
, (925) 682-5361 (home)
Contact:
Chuck Milliken
, (801) 741-1012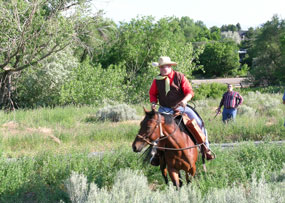 2007 PONY EXPRESS RE-RIDE
The Pony Express will ride again across the American west in 2007. On Monday June 11th, a rider will leave St. Joseph, Missouri, and by proxy, deliver the mail on June 21st to Sacramento, California. The event is sponsored by the National Pony Express Association, a non-profit trail association partner with the National Park Service, headquartered in Pollock Pines, California.
The first rider will depart the Patee House, 1860 headquarters for the Pony Express in St. Joseph, on June 11th at 10:00am and the last rider will gallop into Pony Express Plaza in Old Sacramento, Friday, June 21st at 11:30am. The route will be over the original Pony Express Trail from Missouri, through Kansas, Nebraska, Colorado, Wyoming, Utah, Nevada and across California to Sacramento.
The Re-Ride will commemorate the 147th Anniversary of the founding of the Central Overland and California Pikes Peak Express Company. The Pony Express, as it was known, carried letters and telegrams for 19 months on the Central Route through Salt Lake to prove it passable year-round and win a proposed federal mail contract.
The company did not get the contract, but it did prove the route passable even in winter. It also created a history and legend of daring enterprise and bravery. The Pony Express is remembered in books, video, festivals and commemorative events like the Re-Ride. The trail is now part of the National Trail System and is preserved and interpreted by the National Park Service through the National Trails System office in Salt Lake City.
Commemorative letters and personal mail will be carried in a mochila and relayed rider to rider. Over 550 riders and horses will be posted at intervals to relay the mail to California. The cachets honoring the Pony Express history in Missouri and personal mail envelopes can be purchased in advance for 1860 prices ---$5.00.
Community groups are urged to add the event to their 2007 calendars. To receive state ride schedules, schedule a community welcome for the Pony Express rider, or to obtain a letter application, contact the National Pony Express Association, PO Box 236, Pollock Pines, CA 95726, or phone (916) 332-8382. The Pony Express Home Page, www.xphomestation.com has additional information.
CONTACT: Larry Carpenter (916) 332-8382

National Pony Express Association




---
2007 Pony Express Re-Ride National Schedule
Contacts for

Local Information
| | |
| --- | --- |
| Monday, June 11, 10:00 AM Depart St. Joseph, Missouri | Missouri, Gary Chilcote - (816) 232-8206 |
| Tuesday, June 12, 8:30 AM Kansas/Nebraska Line (Steele City) | Kansas, Lyle Ladner – (785) 353-2432 |
| Wednesday, June 13/14, Midnight (MST) Nebraska/Colorado Line Julesburg) | Nebraska, Lyle Gronewold - (308) 529-0804 |
| Thursday, June 14, 3:30 AM Colorado/Nebraska Line (Chappell) | Colorado, Dave Belke - (970) 854-2362 |
| Thursday, June 14, 3:30 PM Nebraska/Wyoming Line (Henry) | Wyoming, Les Bennington - (307) 436-2233 |
| Saturday, June 16, 9:30 PM Wyoming/Utah Line (Evanston) | Utah, Pat Hearty - (801) 280-1150 |
| Monday, June 18, 2:00 AM (PST) Utah/Nevada Line (Ibapah) | Nevada, Steven Notterman - (775) 425-3296 |
| Wednesday, June 20, 1:30 PM Nevada/California Line | California, Rich Tatman - (916) 362-1902 |
| Friday, June 21, 11 :30 AM Arrive Sacramento, California | National President, David Sanner - (785) 363-7513 |