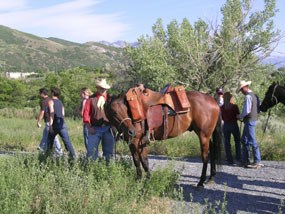 The Pony Express Trail closely followed the route taken by emigrants heading to the Oregon and California territories in the 1840s - 60s.
In the early 1860s, the Pony Express mail service basically followed the Great Platte River Road across Nebraska and the Sweetwater in Wyoming, until it reached the Salt Lake Valley where it continued across the deserts of the Great Basin.
The Mormon Pioneer, Oregon, California, and Pony Express are all designated as national historic trails. Although the Mormons tried hard to avoid contact with other emigrant travelers, at times they all crossed paths - sometimes by chance and sometimes out of necessity. You may find it interesting to look at these other trails and the stories and experiences they shared. Click on the links below to visit the web sites for these other trails.
---



Oregon National Historic Trail





Mormon Pioneer National Historic Trail





California National Historic Trail