Date & Time

12/12/2015 3:00 PM to 4:45 PM,6:00 PM to 9:00 PM

Fee Information

Day Event $10, under 16 FREE; Night Event FREE for all ages

Contact Us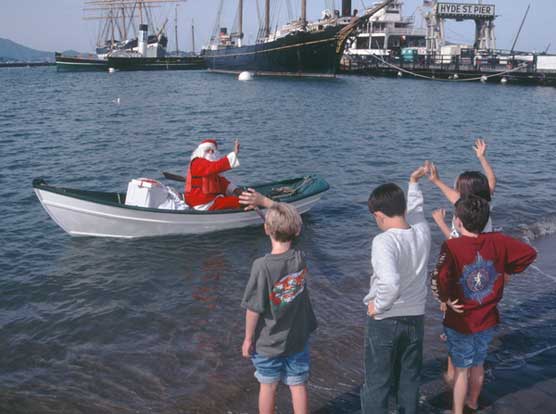 Bring the family down to Hyde Street Pier for an old-fashioned holiday!
During the day, Celebrations at Sea takes place on Balclutha at Hyde Street Pier with music, refreshments, ornament-making, story reading and a visit from Santa (by boat). Activities take place from 3pm to 4:45pm and parking is limited, so please come early or take public transportation. There is limited 4-hour parking on Van Ness Avenue north of North Point Street. This event costs the regular park admission fee of $10 (age 16 and under free).
Then, beginning at 6pm, join the park for Old Time Maritime Christmas, as the park's costumed Living History players take you back to a bygone era, where you can meet and talk with the Captain and crew of the Balclutha, passengers on the Eureka ferryboat in their holiday best, and the cream of San Francisco society aboard the Ark houseboat. It all happens during a lamp-lit tour of the vessels decorated for Christmas in the year 1901. Reservations are required for Old Time Maritime Christmas, the 6pm program, and the cost is FREE for all. Call 415-447-5000 to make reservations.