Date & Time

Every 2nd Tuesday of every month. from 11/10/2015 to 04/12/2016 7:00 PM to 8:00 PM

Fee Information

Free

Contact Us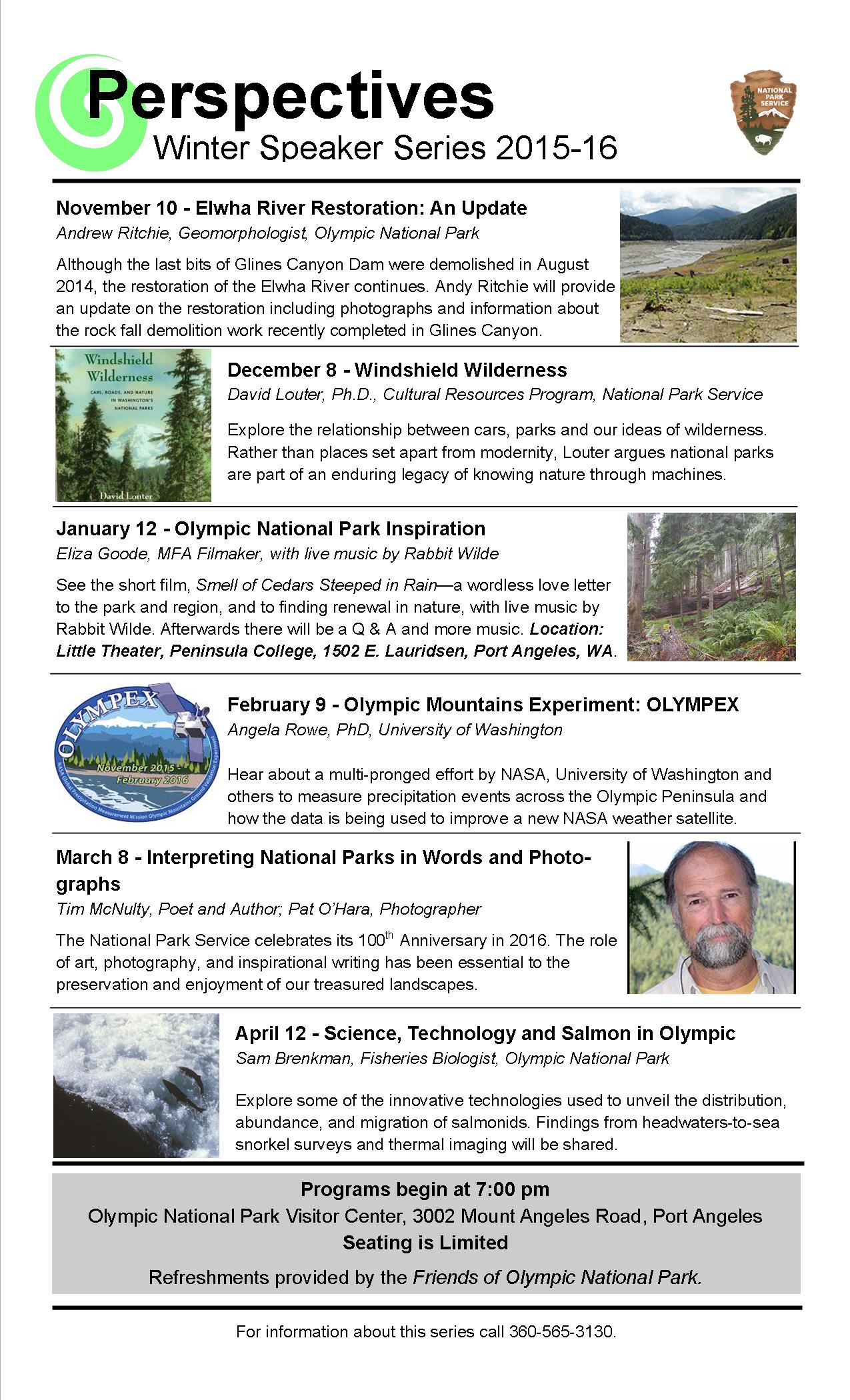 November 10, 2015
Elwha River Restoration: An Update
Andrew Ritchie, Geomorphologist, Olympic National Park
Although the last bits of Glines Canyon Dam were demolished in August 2014, the restoration of the Elwha River continues. Andy Ritchie will provide an update on the restoration including photographs and information about the rock fall demolition work recently completed in Glines Canyon.
December 8, 2015
Windshield Wilderness
David Louter, Ph.D., Cultural Resources Program, National Park Service
Explore the relationship between cars, parks and our ideas of wilderness. Rather than places set apart from modernity, Louter argues national parks are part of an enduring legacy of knowing nature through machines.
January 12, 2016
Olympic National Park Inspiration
Eliza Goode, MFA Filmaker, with live music by Rabbit Wilde
See the short film, Smell of Cedars Steeped in Rain—a wordless love letter to the park and region, and to finding renewal in nature, with live music by Rabbit Wilde. Afterwards there will be a Q &A and more music. Location TBD.
February 9, 2016
Olympic Mountains Experiment: OLYMPEX
Angela Rowe, PhD, University of Washington
Hear about a multi-pronged effort by NASA, University of Washington and others to measure precipitation events across the Olympic Peninsula and how the data is being used to improve a new NASA weather satellite.
March 8, 2016
Interpreting National Parks in Words and Photographs
Tim McNulty, Poet and Author;Pat O'Hara, Photographer
The National Park Service celebrates its 100th Anniversary in 2016. From the very first national parks the role of art, photography, and inspirational writing has been essential to the preservation and enjoyment of our treasured landscapes.
April 12, 2016
Science, Technology and Salmon in Olympic National Park
Sam Brenkman, Fisheries Biologist, Olympic National Park
Explore some of the innovative technologies used to unveil the distribution, abundance, and migration of salmonids. Learn findings from headwaters-to-sea snorkel surveys and thermal imaging in major Olympic Peninsula rivers.
On this 100
th
Anniversary of the National Park Service, the Perspectives Winter Speaker Series looks at park preservation through the lenses of science, art and technology. Talks take place the second Tuesday of each month, November through April. The program is at 7:00 in the Olympic National Park Visitor Center. (Note: The January 12, 2016 Perspectives will be held at a different location still to be determined) The series is sponsored by Olympic National Park &the Friends of Olympic National Park.;font-f��l�42