Date & Time

Multiple Days: 10/03/2015, 10/17/2015, 10/25/2015

Fee Information

Free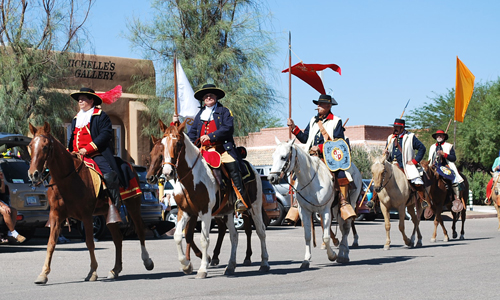 Every October, Southern Arizona commemorates the legacy of the Anza Expedition with family-friendly heritage events at wonderful cultural and heritage sites across the region. 
These Anza Days events recall the October 1775 departure from the Tubac Presidio of Juan Bautista de Anza and the families of his expedition, bound north as the first overland colonizing expedition to California. The legacy of these diverse migrants and the Native American communities they encountered comes to life through the work of dedicated community groups and volunteers. 

Anza Days 2015 Schedule of Events:
Fandango at Las Lagunas de Anza
Saturday, Oct. 3
4PM - 7PM


966 W. Country Club
Nogales AZ
(Across from St. Andrews Church)

Las Lagunas de Anza in Nogales, Ariz., is the first historic Anza Expedition campsite within what is now the United States.

The colonists from present-day Mexico stopped here just two weeks into their journey, still wary of Apache raids and the longer route ahead. Las Lagunas continues to play an important role for the Anza Trail as home base for the Anza Ambassadors, a youth development program that combines culture and history with environmental stewardship.
Enjoy activities for the community, our youth, their families and young children! The Anza Ambassadors Club will be running this event.
Anza Day at Tubac and Tumacácori 
Saturday, Oct. 17
Various Events: 9AM - 3PM
Tumacácori National Historic Park 
1891 East Frontage Rd. 
Tumacacori, AZ 85640 
520-377-5060 
Tubac Presidio State Historic Park and Museum 
1 Burruel St. 
Tubac, AZ 85646 
520-398-2252 
A highlight of the month-long Anza Day commemorations will be the colorful reenactment ride on horseback from Tumacácori to Tubac. Riders in period dress mount up at 9AM at the Fiesta Grounds north of Tumacácori National Historical Park. Armed with shields, leather armor, and nine-foot lances, the soldiers on horseback practice their skills on the grounds. Afterwards, the riders, along with other participants in historic garb, will proceed to the Tumacácori Mission Church for a 10AM mass and blessing of the expedition. 
Following the mass, the group led by Colonel Anza, re-enacted by Bill Islas, departs Tumacácori at 11AM for its 4-mile journey along the Juan Bautista de Anza National Historic Trail to the Tubac Presidio State Historic Park and Museum. Children's activities at the Tubac Presidio include calligraphy and coloring, leather work, paper flower and basket making between 11AM and 3PM. Starting at 11AM musicians and dancers will entertain at the Tubac Presidio until the much anticipated "big event" of the Anza riders' noon arrival. After a horseback presentation, the riders will dismount and eat lunch and mingle. The riders will describe soldiers' uniforms, civilian women's dress, and specialized horse tack of the colonial period. For more information call Tubac Presidio State Historic Park, 520-398-2252 or Tubac Chamber of Commerce, 520-398-2704. FREE admission to the Tubac Presidio.  
Anza Day at Canoa Ranch 
Sunday, Oct. 25
9AM - 1PM
Historic Hacienda de la Canoa
5375 S. I-19 Frontage Rd.
Green Valley, AZ 85614
520-724-5220 

The Pima County Board of Supervisors;the Honorable Ray Carroll, District 4;and Pima County Natural Resources, Parks and Recreation cordially invite you to attend the 3rd Annual Anza Day at Historic Canoa Ranch, featuring: 
- Self-guided Tours 
- Historic Trade Beads Presentation by Steve Ellis at 9:30 a.m. 
- Anza Trail Color Guard Procession led by Colonel Juan Bautista de Anza at 10:30 a.m. 
- Ballet Folklorico La Paloma Performance at 11:15 a.m. 
- Adobe Brick Making –Simon Herbert 
- Power from the Past –Vintage Tractors and Engines 
- Exhibits related to the history of Canoa Ranch and the people who lived there 
- Artisans 
- Antiques/Collectibles 
- Local Foods 
- Food and drink for purchase 
- Information Booths 
- Green Valley Gardeners 
- Living With Urban Wildlife Trailer –NRPR