Date & Time

Multiple Days: 02/20/2016, 02/21/2016

Fee Information

Entrance Fee Applies

Contact Us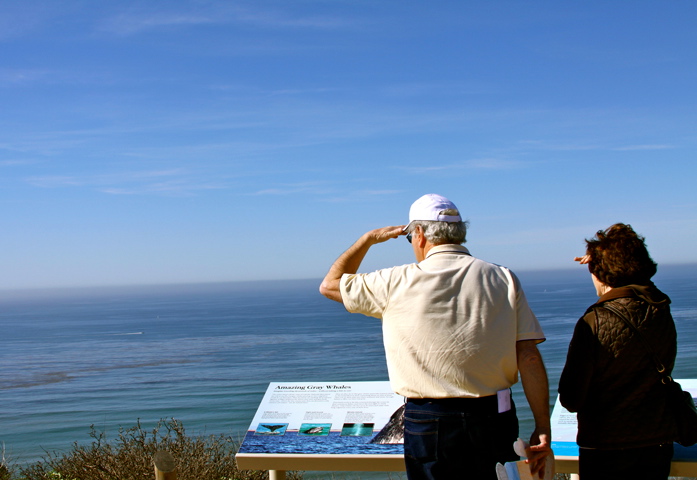 This year will mark the 28th annual Whale Watch Weekend and Intertidal Life Festival at Cabrillo National Monument. Join us for this monumental occasion! Whale Watch Weekend is a chance for Cabrillo National Monument to invite the San Diego community to the park and encourage them to learn about the importance of protecting our oceans. The two-day festival will feature whale watching at the recently re-designed Whale Watch and Kelp Forest Overlook and exhibitors from a variety of organizations that support ocean conservation. The festival will include marine awareness, whale watching and lectures on federal and state agencies that protect our oceans. In addition, this year's festival will feature tidepool exploration and a presentation on the Marine Protected Areas; Ranger programs on the Great Pacific Garbage Patch, the Kelp Forrest Ecology and an interactive storytelling for children about the creation of the tides.
Each winter, the Pacific Gray Whales pass by the western overlooks of Cabrillo National Monument. After spending the summer feeding in the food-rich waters of the Arctic, the Grays swim south along the coast to the bays of Baja California, where they mate and nurse their young. Along the way, they pass Point Loma and Cabrillo National Monument, where you can witness the annual winter journey.
Mid-January is the peak of the migration, but the Grays are visible from mid- to late December through March. From the Whale and Kelp Forest Overlook and the Old Point Loma Lighthouse visitors can enjoy the best viewing of these whales in San Diego from land. Descending these slopes of the overlook, sandstone cliffs drop off into intertidal habitat that visitors may visit during the festival.  The intertidal zone is where the land and sea merge. Here marine plants and animals are submerged during high tide and exposed to the sun and wind on the rocky reef during low tide.  This ocean environment supports a tremendous diversity of life.  
The whales that migrate past here swim right past the second largest kelp forest in southern California. It is possible to see the whales anytime during daylight hours.  Park staff can gladly help visitors spot a whale.  Visitors should check at the visitor center for information about ranger talks and whale watching during the festival and throughout the season.  Don't miss the movie about the Pacific Gray Whale that is shown several times a day in the park auditorium. Later, in the spring, the gray whales will migrate north again, but they are generally too far out in the ocean to see from the park.
During the festival bring binoculars if you have them: binoculars make viewing much easier and more enjoyable.  A limited number of binoculars are available with a picture ID at the Visitor Center during whale season; ask for them at the information desk.
Schedule of Events
All weekend:
Guided whale watching (whale overlook), Exhibitor fair (visitor center complex), Walk or take the free shuttle ride to the tidepools, Arts and crafts activities for all ages (visitor center), Food trucks (traffic circle)
Saturday Program Schedule
9:00am - Park opens, shuttle service to tidepools begins (shuttle stop near Traffic Circle)
10:00am - 4:00pm - Exhibitor Fair, environmental and ocean related educational outreach organizations from
all over San Diego have activities and information on hand to share with visitors (Visitor Center Complex) 10:00am - 4:00pm - Splash Lab, S.D. County Dept. of Education, science lab on wheels (Traffic Circle)
11:00am - Make and Take, Recycled Ocean Art - whale drawings, origami and planting with Erin from Art FORM, until supplies are gone (Visitor Center back patio)
12:00pm - Monitoring Changes in the Cabrillo NM Intertidal: Past, Present and Future, presentation by Cabrillo NM Natural Resource Ecologists, Dr. Keith Lombardo and Jonathan Jones (Auditorium)
1:30pm - Experience Shipboard Life in the 16th Century, a Living History presentation (Auditorium) 2:16pm - Low tide, -0.9ft
2:30pm - Guided tidepool exploration (meet at Tidepool Kiosk)
5:00pm - Park Closes 
Sunday Program Schedule
9:00am - Park opens, shuttle service to tidepools begins (shuttle stop near Traffic Circle)
10:00am 4:00pm - Exhibitor Fair, environmental and ocean related organizations from all over San Diego have activities and information on hand to share with visitors (Visitor Center Complex)
11:00am - Make and Take, Recycled Ocean Art - whale drawings, origami and planting with Erin from Art FORM, until supplies are gone (Visitor Center back patio)
1:00pm - Gray Whales: Extreme Migrators, presentation by Dr. James Sumich, (Auditorium)
2:00pm - Guided tidepool exploration (meet at Tidepool Kiosk) 
2:46pm - Low tide, -0.8ft
3:00pm - Guided tidepool exploration (meet at Tidepool Kiosk) 
5:00pm - Park Closes