Date & Time

Every Monday Weekly & Every Tuesday Weekly & Every Wednesday Weekly & Every Thursday Weekly & Every Friday Weekly from 01/25/2013 to 04/01/2013

Fee Information

Free

Contact Us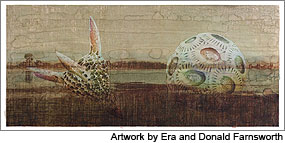 Art Exhibition: "Specimens and Glass Houses"
Contemporary printmakers Donald and Era Farnsworth's artwork will be on display in the Red Barn Classroom weekdays from Friday, January 25, 2013, through Monday, April 1, 2013, closed holidays.
Controversy surrounding theories of evolution have continually unfolded since British scientist Charles Darwin published his book On the Origin of Species in 1859. For contemporary printmakers Era and Donald Farnsworth, Darwin's writings offered the opportunity to explore notions about science, the natural world, and the chasm that sometimes exists between observation and belief. Collectors of strange and beautiful insect specimens and digital technology enthusiasts, the Farnsworths produced this exhibit series using insects from their own collection, as well as specimens from the California Academy of Sciences in San Francisco. The highly detailed images were digitally captured and then overlaid onto printed chapters of Darwin's writings. Also view a 3-D triptych imposing photographed super magnified marine diatoms on to landscape features, an innovative centerpiece of the exhibit.
The gallery is open by appointment only, Mondays through Fridays, 9 am to 4 pm. There was also an artist's reception on Sunday January 27, 2013, from 1 pm to 3 pm.
Please contact Carola DeRooy at 415-464-5125 or by email to schedule an appointment or for more information.
Point Reyes National Seashore Association sponsors the Art Exhibitions and handles all art show sales, a portion of which supports the Point Reyes National Seashore Museum and Archives Research Services. For art sales, contact PRNSA Gallery Manager: Annalisa Price at 415-663-1200 x309 or by email.
To get to the Red Barn Classroom, follow the directions to Point Reyes National Seashore. As you proceed up the driveway toward the Bear Valley Visitor Center, turn left at the sign for the Red Barn Classroom.