Date & Time

Every Sunday Weekly & Every Saturday Weekly from 01/04/2014 to 05/31/2014 12:00 AM to 12:00 AM,1:30 PM

Fee Information

free

Contact Us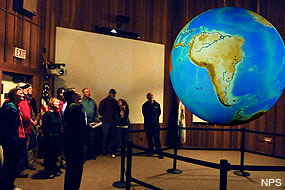 Join a Ranger to get a perspective of planet Earth that once was available only to astronauts. Science on a Sphere® (SOS) gives visitors a view of the Earth and the forces that shape life on our planet. Learn about wildlife migrations, atmospheric and geologic events, and even other celestial bodies. Program lasts 30 to 60 minutes.
This program is not offered on December 25.
Science On a Sphere® is a room sized, global display system that uses computers and video projectors to display planetary data onto a six foot diameter sphere, analogous to a giant animated globe. Researchers at NOAA developed SOS® as an educational tool to help illustrate Earth System science to people of all ages. Animated images of atmospheric storms, climate change, and ocean temperature can be shown on the sphere, which is used to explain complex environmental processes in a way that is simultaneously intuitive and captivating.